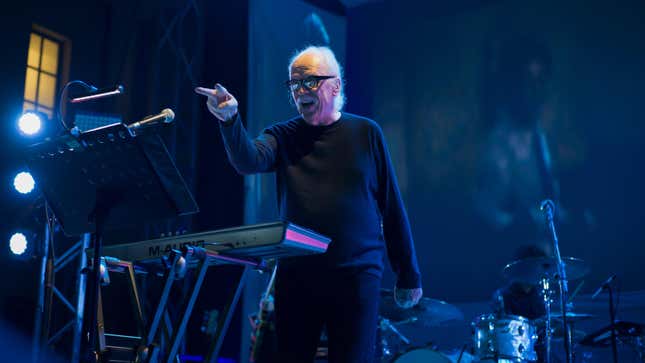 Much-beloved genre director John Carpenter (Halloween, The Thing, Escape From New York) turns 75 this month, and in a new interview he casually mentions that sure, he'd be up for making another feature film someday—if certain conditions were met, that is.
Chris Pratt and Bryce Dallas Howard Nerd Out About Jurassic Park's Returning Heroes
"I'm open to it, given that it's honestly budgeted and there's plenty of time to do it—and that people allow for the basketball season and the playoffs," he told Variety in a fun interview that covers a lot of his career but also reveals his delightfully bone-dry sense of humor. He was then asked if he'd prefer a theatrical or a streaming project, and said, "I'm wide open to anything. It's fine, I don't care."
Though Carpenter's name and influence have never strayed from pop-culture prominence—obviously in projects like the recent Halloween trilogy from director David Gordon Green, but also in any movie that pays homage to Carpenter's trademark aesthetics, like his self-composed synth scores—he hasn't himself made a feature since 2010's The Ward. Prior to that, his last critically acclaimed film was probably 1994's In the Mouth of Madness (though I am a fan of 2001's Ghosts of Mars, sorry not sorry), with his biggest heyday spanning the decade between 1978's Halloween and 1988's They Live.
The interview also reveals Carpenter's take on Jordan Peele (he's a huge fan); the one among his own films that he's genuinely proud of (The Thing); the fact that he has zero intel on the long-in-the-works Escape From New York remake; his "perfect day" ("Get up late, watch a little news, play a video game, watch some basketball, go to bed"); and the advice he'd give his younger self: "I dreamed of being a movie director ever since 1956, and my dream came true. Whether it's hard, whether I'm always successful, I don't care. I'm living my dream, and there is nothing better as a human being. So I would say to myself, 'Man, go to it. You're going to have a drink. You'll have your dream fulfilled. Go make your movies.'" And maybe he'll go make another one, one of these days?
Head over to Variety to read the full interview with Carpenter—a must for fans—and tell us your favorite Carpenter film below in the comments!
---
Want more io9 news? Check out when to expect the latest Marvel, Star Wars, and Star Trek releases, what's next for the DC Universe on film and TV, and everything you need to know about the future of Doctor Who.