Director Gavin Hood and star Asa Butterfield open up about Ender's Game. Check out new videos from Star Trek Into Darkness and Man of Steel. Will Arnett's Ninja Turtles role is revealed. Zoe Saldana talks up Guardians of the Galaxy. What lies ahead for Person of Interest and The Vampire Diaries? It's spoilers all the way down!
Top image from Ender's Game.
Star Trek Into Darkness
Here's a sneak peek clip.
And here's a character profile on Dr. Leonard "Bones" McCoy.
---
Star Wars: Episode VII
Episode VII director J.J. Abrams says that film's success (or lack thereof, I guess, but let's not kid ourselves) will determine what happens with the planned spinoff movies:
"We're focusing right now on this because this movie feels like this is the one that has to work for anything else to work. There are discussions about what would happen later and how to make this thing and to tell story, you can't look at it in a binary way. It's obviously part of something much greater. To talk about those off-shoot films, that's something have to talk about with Kathleen Kennedy."
---
Man of Steel
Here's a pair of behind-the-scenes videos, featuring some new footage and commentary from director Zack Snyder and stars Henry Cavill and Kevin Costner.
---
Guardians of the Galaxy
Star Trek and Avatar star Zoe Saldana explains why she signed on to play Gamora, one of the three main humanoid Guardians:
"It feels unique, but it doesn't feel like it hasn't been done before. I loved the levity in the script and I liked the casting of [Parks and Recreation star] Chris Pratt [as Star-Lord]. I've been a fan [of his] and I think his gifted natural comedic timing might come in handy to play someone like Star-Lord. I was just excited to be asked to join by James Gunn and to also play someone green. I've been blue before. I'm in the process right now of the evolution of conceiving Gamora's look. It's exciting! We're trying to work out comfort also, because you know that I definitely want to be involved in the stunt-doing of my character."
G/O Media may get a commission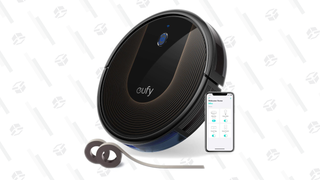 48% Off
Eufy BoostIQ RoboVac
[MTV Splash Page via Comic Book Movie]
---
Ender's Game
Director Gavin Hood, star Asa Butterfield, and producer Roberto Orci recently participated in a Google+ Hangout to promote the film, and EnderWiggin.net has sent us over some highlights. First up, here's Gavin Hood revealing which was the most important aspect of Orson Scott Card's book to preserve in the adaptation and explaining how he created the Battle Room.
Asa Butterfield explains why he wanted to play Ender Wiggin and discusses his big battle scene with Ben Kingsley's Mazer Rackham.
Check out all the rest of the videos right here.
---
Teenage Mutant Ninja Turtles
A new set photo shows Arrested Development star Will Arnett filming scenes, and the nametag he's wearing reveals his character to be snide cameraman Vernon Fenwick. This may just be because snide cameraman Vernon Fenwick is literally the only human male I can remember from the old cartoon, but I always kind of just assumed that was who Arnett was playing — I mean, it's hard to imagine a more perfectly Arnett-y character for him to play. Anyway, we can now consider this confirmed. Check out the link for the set photos. [Superhero Hype]
---
Divergent
Author Veronica Roth explains what makes The Descendants and The Amazing Spider-Man 2 actress Shailene Woodley right for the main role in her dystopian story:
Shailene brings reality to Tris. Tris is kind of an impetuous 16-year-old. She has a harsh personality with some vulnerability. All of the shades of what Tris is, Shailene is able to do, just in very small moments. She's pretty subtle, too. That's been great. Even though she's not a tiny blonde girl, she just is this character. She seems like a real person who's actually having those struggles. I wasn't that surprised because I know she's a great actress. I saw her in The Descendants. I just didn't think anyone would be able to do it. Tris is so dear to me, even though I want to punch her sometimes.
She also praises Limitless director Neil Burger's vision for the film:
I was worried that the overall visual sense of the movie would be a little too futuristic sexy, like really sleek and shiny, and that's not really the world of Divergent. Everything is kind of falling apart. And I think he definitely did that, which I was really happy about. The visuals I've seen have been in that vein, and that's been really exciting. He's got a really detail-oriented mind, so everything, down to all the little details that I saw, has been so well thought-out, in keeping with the philosophy of the world. He and I talked for hours, and he asked me so many questions about things I had never thought of. He was like, "How does commerce work in this particular faction?," and I was like, "I don't know! Where were you when I was writing this?!" Those conversations were really reassuring because he's just so interested in every little thing, and I think that definitely comes across.
There's more at the link. [Collider]
---
Doctor Who
You remember that crazy, unsourced rumor that John Hurt was playing some secret incarnation of the Doctor in the 50th Anniversary special? Well, we can now upgraded that rumor from "crazy and unsourced" to "a thing John Hurt apparently actually said." Here's how the Eastern Telegraph quotes Hurt's description of his character:
Mr Hurt, who lives near Cromer, earlier told the EDP he had just finished shooting a Dr Who 3D special in which he plays "part of the Doctor" in a "kind of trinity" which includes David Tennant.
Now, this isn't confirmation of that specific original rumor, which held that Hurt was playing the forgotten, actual Ninth Doctor who was erased from memory because of his participation in the Time War. Indeed, Hurt's use of the word "trinity" perhaps suggests something a little more complicated than that, with one possibility being David Tennant as the "past" Doctor, Matt Smith as the "present" Doctor, and John Hurt as some sort of "future" Doctor. Anyway, whatever's exactly going on, this ought to be plenty intriguing. [Eastern Telegraph]
Here's one more sneak peek clip from tomorrow's episode, Neil Gaiman's "Nightmare In Silver." [Blogtor Who]
---
Person of Interest
Co-creator Jonathan Nolan talks in broad terms about what to expect from season three:
You know, we certainly have a great budget on the show, but the expansions to world of the show really arise because, and this is kind of the idea of the premise of the show, where is each week you're kind of meeting . . . It's random access. Each week the machine is spitting out a number for a new person or a new world within New York that you get to know. And the idea from the beginning was that some of the characters would stick around and become part of the lives of the show, and the world of the show itself will continue to grow. So whether it's a Paige Turco's character, Ken Leung's character, we always build that universe out. And then you have these characters who come along and who bring a whole new dimension to the show and we use them as a sort of lens into the other's universes of the show, so that's the case here with Sarah Shahi's character Shaw and her entry into the world of our show. So we're very much hoping to see more of her next season.
[Collider]
---
Once Upon a Time
Here are three sneak peeks for this Sunday's second season finale, "And Straight On 'Til Morning."
---
Arrow
Here's a promo for next Wednesday's season finale, "Sacrifice."
---
The Vampire Diaries
Showrunner Julie Plec says Klaus's impending fatherhood is a story that won't be dealt with during his return to Mystic Falls at the end of this season, but instead will be left for some combination of his spin-off The Originals or season five:
We had always talked about, at some point in the series, dealing with a vampire pregnancy, but we couldn't really ever figure out the science behind that and also didn't want to break any rules. And when we started talking about giving Klaus a really powerful journey for season 4 — regardless of whether there'd be a spin-off or not — we thought, well, where's his character coming from and where does it need to go? What could we do to really, really blow his mind? And we realized, this is a guy who everything he's ever done — all his ego, all his paranoia, all his anger — is a result of feeling like this family has completely failed him. So what better way to rock his world than to introduce a new element of family?

We came up with the idea that because of him being the Original Hybrid there could be a loophole, and him realizing he got a werewolf girl pregnant. [The writers] were in two rooms: One room was working on episode 2, and one room was working on episode 3. And in the episode 2 room, where I was, I don't know how it came up, but I leapt out of my chair and ran down the hall and pitched it to the other room. I didn't even give them a chance to disagree. Who knows if they loved it or hated it? They were so bombasted by my enthusiasm. Everybody was like, 'Whoa! Whoa!' So that was a story line we were intending to play, even if there was no spinoff that came to fruition... We don't bring that back around because really, what Klaus and Caroline's unfinished business is, of course, is his refusal to allow Tyler back into her life. We'll resolve that before the season's out.
She also says there's a big twist coming with Silas' character:
"As we'll see, he's not exactly all that he claims to be. And he's been leaving out some pretty important details. So by the end of the season, those are gonna be revealed, and we'll see that he's definitely up to somethin' that will lasting impact. The Silas story takes a little bit of a left turn, and once the audience sees what happens there, they'll start to understand where we might be going with it [in season 5]."
[EW]
---
Falling Skies
Season three picks up seven months after the previous finale. [TV Line]
---
Additional reporting by Katharine Trendacosta and Charlie Jane Anders.