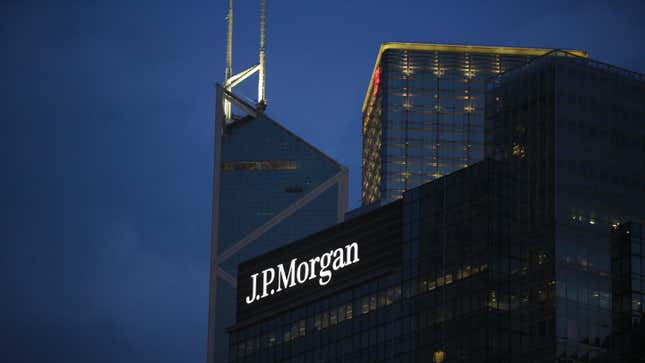 We all make bad deals here and there, but JPMorgan has made a really bad one. The financial services company claims that its acquisition of startup Frank was built on a lie in which the young startup owner claimed the company had millions of users.

He Tossed His Bitcoin, Now He Wants It Back
Frank is a software startup aimed at helping students get the most out of the student loan process by helping them navigate the barrage of confusing forms with a TurboTax-like process. Frank raised $5 million in April 2020 and the startup was acquired by JPMorgan Chase in September 2021 for a then unreported amount of money.
But the relationship was allegedly built on a lie, and, according to a report from Bloomberg, with JPMorgan now regretting their $175 million purchase of Frank. JPMorgan claimed in a lawsuit filed in December that Frank CEO Charlie Javice swindled the megacorporation in true Elizabeth Holmes fashion when she approached JPMorgan for a sale. When pitching Frank to JPMorgan, Javice reportedly claimed the startup had over 4 million users, when in reality it had closer to 300,000.
"Defendant Charlie Javice founded a small start-up business known as Frank that seemingly had the potential to grow and become a successful enterprise in the future, and appeared to have had early proven success," JPMorgan says in its complaint against Javice, which was filed in Delaware under case number 1:22-cv-01621-MN. "But to cash in, Javice decided to lie, including lying about Frank's success, Frank's size, and the depth of Frank's market penetration in order to induce [JPMorgan Chase] to purchase Frank for $175 million."
In her pitch to JPMorgan, Javice allegedly claimed that Frank had 4.25 million users and had seen 35 million website visitors since its founding in 2020. To bolster these claims, Javice produced a list of 4.265 million students who had allegedly begun the Free Application for Federal Student Aid (FAFSA) process through Frank, with 2.1 million students fully completing the application, according to the case.
JPMorgan then claims that the company asked for a comprehensive list of customer account data including full names, dates of birth, and home addresses. Javice initially pushed back on the request citing privacy concerns, before producing a list complete with all the data. After a Frank engineer refused to create doctored data, this list was created for $18,000 by an unnamed data science professor in New York City based on the list of 300,000 actual customers. At the same time, the suit alleges Frank's Chief Growth Officer Olivier Amar reached out to a student marketing company, and purchased a list of 4.5 million student names, addresses, and phone numbers for $105,000.
"[JPMorgan Chase] paid $175 million for what it believed was a business deeply engaged with the college-aged market segment with 4.265 million customers; instead, it received a business with fewer than 300,000 customers," JPMorgan argues. "Javice and Amar's fraud materially damaged [JPMorgan Chase] in an amount to be proven at trial, but not less than $175 million."
When asked for more information, JPMC spokesman Pablo Rodriguez told Gizmodo in statement, "Our legal claims against Ms. Javice and Mr. Amar are set out in our complaint, along with the key facts. Ms. Javice was not and is not a whistleblower. Any dispute will be resolved through the legal process."
Frank didn't immediately respond to Gizmodo's request for comment but lawyers for Javice, who is also suing JPMorgan to pay for her legal fees told Bloomberg that the bank rushed to buy Frank without conducting proper due diligence while trying to deflect attention from its violations and student privacy laws.
Frank's website is officially closed with the message "Frank is no longer available. To file your Free Application for Federal Student Aid (FAFSA®), visit StudentAid.gov." Likewise, the Twitter accounts for Frank, @with_frank, and Charlie Javice, @charliejavice, no longer exist.