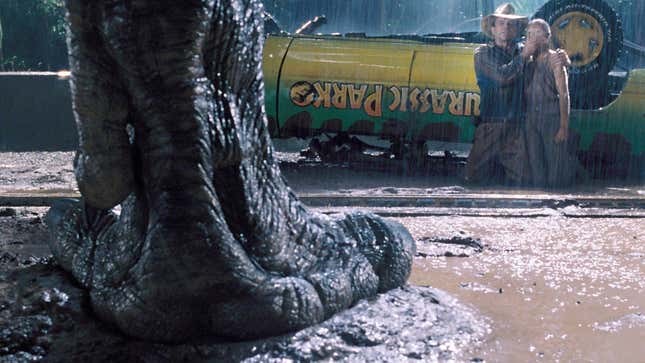 Today is the 25th anniversary of Jurassic Park. I was 11 years old when it came out. Here's what I remember.

Chris Pratt and Bryce Dallas Howard Nerd Out About Jurassic Park's Returning Heroes
There was a time in the mid-'90s my family didn't go to the theater that often, so I actually saw Jurassic Park for the first time on VHS. And it was a revelation. My memory is a little hazy—I called my mom, who was no help, by the way—but I believe we rented it from the library first and I was so enamored with it, that my folks bought a copy for me to wear out. And wear it out I did.
My routine was very specific. Friday night, after the main household-TV-watching was over, I would pull out my sleeping bag and set it up under the coffee table. I'd wait until my parents retired to their room for the night (this was also the first time I was allowed to stay up later than my parents, which was a big deal) and pop the tape into the VCR. I'd probably have to rewind it first, having forgotten to after the last time I watched. And then I'd take in the majesty that is... Jurassic Park.
And then I'd do the exact same thing Saturday night. This went on for a while.
See, 1993 also coincided with a big move for my family and finding new friends was a difficult process. Not only was I the "new girl," I also happened to be disabled, which was a fresh, and certainly foreign, concept for pretty much every other kid in my school. I did eventually make friends but I was always very careful about what I shared, never wanting to give them any reason to alienate me. There was a girl next door who was a little older than me and was happy to spend afternoons racing me in Sonic the Hedgehog 2 (I perfected my runs down to the millisecond) but she never showed much interest in other "nerdy things." I didn't press it.
It wasn't until the next year when another student mentioned Star Trek: The Next Generation in my presence that I found another geek kindred spirit, but Jurassic Park remained an insular experience for me. It was mine, and it brought me so much joy. Laura Dern's Dr. Ellie Sattler and Ariana Richards' Lex Murphy were female characters the likes of which I'd never seen before, and their significance wouldn't really sink in until many years later. Jeff Goldblum's Dr. Ian Malcolm, on the other hand, made an immediate and lasting impression. And like a million other kids, the movie also got me very interested in paleontology for a good while.
I was obsessed with a lot of films as a kid—Return to Oz, Little Monsters, Girls Just Want to Have Fun— but Jurassic Park was the first one I think I really viewed as a film. By that I mean, I was thinking about it in terms of what went on behind the scenes to make it. I actually knew who director Steven Spielberg was and I was truly in awe of what he and his team were able to accomplish. He brought dinosaurs to life! The mix of practical effects and CGI created a truly wondrous and frightening experience (I can still hear those raptor claws click-clacking on the kitchen floor like it was yesterday). And John Williams' score is unforgettable and the perfect companion to the film.
Jurassic Park truly meant so much to me I spent many years trying to decide on how exactly to tattoo it permanently on my body. Artist nonneebee finally gave me what I'd been looking for all that time and tattoo artist Ron Mor made it a gorgeous reality. "Dinosaurs eat man. Woman inherits the earth."
What. A. Nerd.
To this day, Jurassic Park remains one of my all-time favorite movies and I love putting it on when a rainstorm hits my area (the perfect time to watch). I finally got to see it on the big screen a few years back when it was re-released for the 20th anniversary and yes, I saw it with friends. You see, it wasn't until many years after my first viewing that I learned, "Hey, actually, a lot of people are fans of Jurassic Park. I wasn't alone."
But, it will always hold a special place in my heart because Jurassic Park was the best company I could have asked for, and exactly the kind of engaging experience I needed at that point in my life. Is there a film that did that for you?