Your brain can melt trying to keep up with the endless torrent of video content on the web each day. That's why we are here to ease your fatigue with the best videos of the week. Enjoy!
Deadly Mississippi Tornado Kills More Than 2 Dozen | Extreme Earth
---
Cory Poole—science teacher at University Preparatory School in Redding, California, and Gizmodo reader-has composed this 60-second time lapse video made from 700 frames captured by a Coronado Solar Max 60 Double Stacked Hydrogen Alpha Solar Telescope.


---
This is the Gerald R. Ford aircraft supercarrier. She will be the lead ship of the new class that will eventually replace the Nimitz-class supercarriers. She is also the first carrier to be entirely designed using three-dimensional modeling software.


G/O Media may get a commission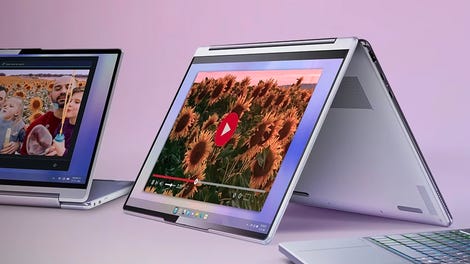 up to 70% off
Lenovo Spring Clearance
---
The would-be female thief in this surveillance video seems like a smooth operator-until she gets zapped with a taser and falls to the ground like a stiff board. We've seen our fair share of tasings, but this is the platonic ideal of taser drops.


---
First it was on, then it was off. Then on, then off. Then it had a little wobble. Now, SpaceX has finally launched, making its NASA's first successful involvement with the world of private space flight. This is a momentous day for science, engineering and space travel.


---
Scientists tell us that our universe is trillions of miles wide, but how exactly do they come to that measurement without an equally long tape measure? As this beautifully animated video explains, by using similar techniques for measuring distant objects here on Earth.


---
What if you only weighed a fraction of what you actually do? You could run so fast. You could take an immense amount of pressure off your knees while still getting a workout. You could focus entirely on your form.


---
NASA just sent me this beautiful video of the Sun. "There's no science behind it," says Scott Wiessinger, Helio and Astrophysics Video Producer at NASA's Goddard Space Flight Center, "but it's very pretty." You got it, Scott. It's also very trippy.


---
We just can't get enough of the amazing Google Doodle paying homage to synth inventor Robert Moog, but Brett Domino takes the things to the next level with his rendition of Daft Punk's "Aerodynamic."


---
An 80-year-old named Laverne came startlingly close to death when things went horribly wrong during her maiden skydiving attempt. If the video doesn't deter you from ever jumping out of a plane, I don't know what will.


Image: Shutterstock, user: Vlue