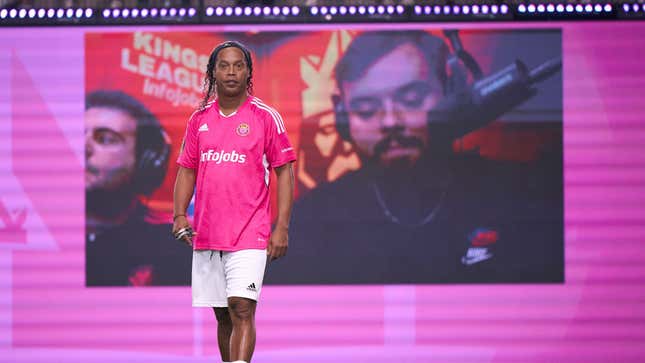 After being written off as a "circus" by mainstream soccer officials, Gerard Piqué's new Kings League continues to prove that, actually, there are hundreds of thousands of people completely hooked on this specific type of wacky, free-for-all sport. As they say in showbiz, the show must go on.
The Kings League is an indoor soccer league started by Piqué, a former defense player with FC Barcelona, that debuted in January. For the uninitiated, it's like a soccer video game in real life with strange and constantly changing rules. Team presidents have "Secret Weapon" cards that let them take a penalty kick or have their goals count for two points. Piqué, meanwhile, also has his own set of "League Cards" that take a certain number of players off the field during each game. The games are shorter, too, consisting of two 20-minute halves.
The 12 teams are headed by famous Twitch streamers like Ibai and TheGrefg as well as by soccer legends like former Real Madrid goalkeeper Iker Casillas and retired Manchester City striker Sergio "El Kun" Agüero. Anyone can play in the Kings League, no professional experience required.
Gizmodo attended a typical Kings League game day in February—all the teams play against each other every Sunday for six hours—and confirmed the league is just as wacky in person as on the screen.
Click through to check out some of the craziest moments in the Kings League to date.