The anniversary for Hurricane Maria is a little over a month away. Despite all the time that has passed, the Puerto Rican government has still failed to finalize a proper death count for the many islanders who lost their lives directly or indirectly from the storm back in September.
The current government estimate sits at 64 deaths, but a new study out Thursday in JAMA shows it's likely way higher. The study published by Alexis Santos-Lozada, the director of Penn State's graduate program in applied demography, found the death toll is likely closer to 1,139.
Santos-Lozada published similar findings in November last year online, but they wasn't peer-reviewed. Those numbers also didn't include the months of November and December, which this study does. It joins a growing body of literature trying to account for the dead. A study published in the New England Journal of Medicine in May estimated the number was closer to 5,000 lives lost. Outlets like the New York Times and the Center for Investigative Journalism have conducted their own analyses that place the number closer to Santos-Lozada's estimates.
Every study has its own methodology, whether it's looking at average death rates or conducting on-the-ground surveys. This latest study looked at the mean death stats from January 2010 to December 2017 to quantify the "excess death counts" that sat outside the norm.

All these independent efforts have pushed the Puerto Rican government to re-examine how many of its people have died. The U.S. territory is now partnering with the Milken Institute of Public Health at George Washington University to conduct its own study. In June, the government published data that found a severe spike in fatalities within the first 20 days after the hurricane. The data shows there were 700 more deaths over the 20-day period than in 2016.
G/O Media may get a commission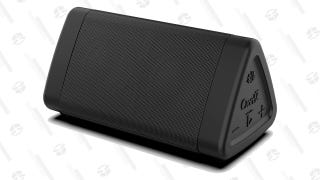 Save 31%
Oontz Angle 3 Portable Bluetooth Speaker
Given how slowly power returned to the island, the government must consider all deaths that happened while Puerto Rico went dark. People might've survived the disaster itself, but some also lost access to their insulin because their fridge couldn't turn on or couldn't get gas to go to the hospital. Counting these deaths doesn't just show respect to those who have suffered losses. It helps us better prepare for next time, too.
"Getting an accurate number can help us revise emergency management protocols and assess where we may have failed," Santos-Lozada wrote in an email to Earther. "By getting an accurate number, we are first acknowledging something happened, and we can start this process, which I hope in the future can help reduce the loss of life among the most vulnerable populations."
I hope so, too, dude. I really do.