Another rising star joins Ryan Gosling's crazy modern fairy tale How to Catch a Monster, while Steven Moffat assures us that Matt Smith's movie role doesn't mean his Doctor Who departure. Check out new photos from All You Need Is Kill!
All that plus there's more casting news for the Wachowskis' Jupiter Ascending, Neil Gaiman teases his Cybermen Doctor Who episode, Vin Diesel unveils another Riddick photo, and you will never guess who Warner Bros. may have asked to play Batman in their (for now) scrapped Justice League movie!
Spoilers from here on out!
Top image from Doctor Who.
Star Wars: Episode VII
Empire Strikes Back and Return of the Jedi writer Lawrence Kasdan discusses his new involvement with the franchise, which seems to involve both working on a standalone movie and consulting on J.J. Abrams's Episode VII:
I was pleased that there would be new ones, that there was a chance to capture some of the spirit of the original trilogy that I'd worked on. I thought there's an audience out there — my grandchildren, lots of original Star Wars people — and there always will be. It's only good that we try to do some more great ones.
How long ago did you know that you were going to be working on this? Was this kind of a sudden development?
No, this started last fall. It actually first started with conversation I had with (Kathleen Kennedy) and George [Lucas].
What can you tell fans about this new version that you're working on? There are so many rumors going around.
They're going to be fun. J.J. (Abrams)'s a great director for the first sequel. Perfect. We're very happy to have him. The writers I've been working with — Michael Arndt, who's going to write the sequel, and Simon Kinberg, who has, like me, been sort of consulting — they're great. I've never really collaborated a lot, and I've never been a room with a bunch of writers thinking, "Well, what should this thing be?" It's fun. It's really fun. And J.J.'s a writer. Yeah, lovely guy. I'd met him but didn't know him. But now I'm totally enamored by him. He's really funny and so enthusiastic.
[IGN]
Elsewhere, Kasdan discussed in very general terms how he's approaching the new films:
"I'm trying to start fresh. There are certain pleasures that we think the saga can bring to people that they've been missing, and we're hoping to bring them that, and at the same time, have them feel that it's all new. George sort of brought me into this part of it. and he's stepping back from the company. He's sort of given his blessing to everybody, and he'll be there if you need him. I think everyone's interested to see where this can go. It's been some very different places over 30 years …. I think with J.J., we'll get something entirely new."
G/O Media may get a commission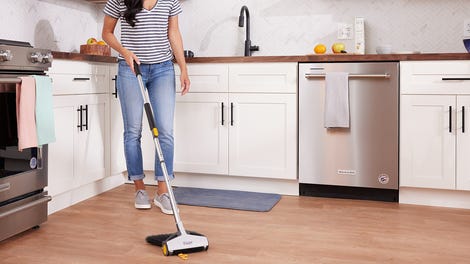 BOGO 50% Off
Flippr - BOGO 50% Off
Last week, we reported on a rumor that supposedly originated with a Melbourne radio host that Fringe star John Noble was the main contender to play the villain in J.J. Abrams's Star Wars movie. It would now appear that the entire report was completely fake, and that the radio host never actually said anything even remotely like that in the first place. Our apologies for passing along such false information, particularly when it should have been fairly obvious that the film is still in the writing stage, not the casting stage. Regardless, it still seems like a pretty genius idea to us. [Moviehole]
Though there's still no reason to think those reports of a Yoda standalone movie were even remotely accurate, they do offer slightly more justification for checking in with the original actor to see if he would be interested in returning to the role. Well, Frank Oz would "absolutely" play Yoda again, though he's pretty sure he would just be working as the voice, not the puppeteer:
"He's in my heart. I know Yoda very deeply. I think it depends on the story, but I think at this point you can't go back to the puppet. The reason George [Lucas] did the CGI, which I supported, was that he wanted to tell a story that would have been hampered by the physical limitations of the puppet."
---
Star Trek Into Darkness
Here's a pair of new promo images. [Coming Soon]
---
X-Men: Days of Future Past
Director Bryan Singer suggests that he might include all-CGI characters in his next X-Men movie, much as he did with the giants in Jack the Giant Slayer:
Yeah, we performance-captured the giants first on a volume stage. The challenge that we had, that "Avatar" did not, was that you've got real actors interacting with giants. This was my first 3-D movie as well, and I took a lot of care with the stereo. But to do a fully animated kind of thing? I definitely want to use this technology again, and I might even be using some of it in a different way in "X-Men." I don't wanna say how, yet, but I'm definitely using some of this technology on "X-Men" which I never used in any of the other "X-Men" films.

Are you talking about creating a fully CGI character in "Days of Future Past"?
That's the thing I don't want to talk about. I'm not sure. I'm doing research on it now.
Since Singer mentions the scale of the giants relative to the human actors as a particular innovation of his film, it seems like the three-story-tall Sentinel robots, which are more or less confirmed to appear in Days of Future Past, would be the obvious candidates for the all-CGI treatment. [MTV]
In explaining why he's not particularly disappointed that he wasn't asked back to direct another Superman movie, Bryan Singer drops some more hints about his latest X-Men movie:
He's not an easy character! I got very nostalgic with my movie but even if you take it in another direction it's very challenging… inherently he's such a good guy… what's easier about X-Men is that they're all so conflicted. What's going to be interesting in the next X-Men movie is that the characters are incredibly polarized.
---
Justice League
Now that Will Beall's "terrible" script has been scrapped and this project has gone back to square one, we're back at the wild, unfocused rumor stage. We'll try to keep these to a minimum, but it's perhaps worth checking in with DC Animated Universe stalwart and fan favorite Paul Dini, who explained why he personally isn't that interested in the project and why it might generally be so difficult to craft a successful Justice League film in the wake of The Avengers:

Meanwhile, this should probably be taken with as minuscule a grain of salt as you can possibly imagine, but one interesting rumor about the most recent Justice League incarnation was that Ben Affleck — who was frequently rumored as a top choice to direct the movie — was also approached to play Batman. Assuming the underlying rumor is true — that Affleck was ever asked to play Batman — one would assume this would only have happened if he directed the movie as well. If there's anything to take away from this rumor, it's probably just that Warner Bros. wasn't remotely committed to bringing in Joseph Gordon-Levitt as the new Batman (which was already a pretty safe assumption) and that the studio isn't necessarily looking to go younger than Christian Bale with its new Batman — indeed, the 40-year-old Affleck is actually about a year and a half older than Bale. But really, this is probably best understood simply as another indication that nobody really knows what the hell they're doing with Justice League. [Entertainmentwise]
---
All You Need Is Kill
Here are some new set photos from Tom Cruise and Emily Blunt's time-looped soldier movie, courtesy of WENN.com.
---
Riddick
Here's the latest promo image, courtesy of star Vin Diesel. [Coming Soon]
---
Jupiter Ascending
Douglas Booth, who is set to make his blockbuster debut in Darren Aronofsky's biblical reimagining Noah, has reportedly been cast in an unspecified role in the Wachowski's latest film, in which "humans are at the bottom of the evolutionary ladder and... a woman... has been targeted for assassination by the queen of the universe." Booth joins the previously cast Channing Tatum, Mila Kunis, Les Miserables costar Eddie Redmayne, and the always welcome, frequently killed Sean Bean. [Variety]
---
How to Catch a Monster
Hanna star Saoirse Ronan has joined the cast of Ryan Gosling's directorial debut, joining Mad Men's Christina Hendricks, Doctor Who star Matt Smith, Ghost Rider's Eva Mendes, and Ben Mendelsohn, who played corporate raider John Daggett in The Dark Knight Rises. There's no word yet on who Ronan will play in the film, but here's the latest synopsis for Gosling's "modern fantasy-drama":
HOW TO CATCH A MONSTER weaves elements of fantasy noir, and suspense into a modern day fairytale. Set against the surreal dreamscape of a vanishing city, Billy, a single mother of two, is swept into a macabre and dark fantasy underworld while her teenage son, Bones, discovers a secret road leading to an underwater town. Both Billy and Bones must dive deep into the mystery, if their family is to survive.
---
The Host
Here's the latest character video from Gattaca director Andrew Niccol's adaptation of Stephenie Meyer's non-Twilight book. This one focuses on the Seeker, as played by Inglourious Basterds actress Diane Kruger. [Coming Soon]

And here's a character poster.
---
Doctor Who
In case you were wondering whether Matt Smith's casting in How to Catch a Monster meant the end of his time on the show, Steven Moffat has now confirmed that isn't the case, going so far as to say that Smith will "be back" after he films Ryan Gosling's movie. That means that it's now absolutely confirmed Smith will be back not only for the 50th Anniversary Special — which will be filmed before How to Catch a Monster — but also for the 2013 Christmas special, which will be filmed after. [Blogtor Who]
Neil Gaiman confirms his penultimate episode of the series is called "The Last Cyberman", and he drops a few other details:
"I've written [one] that broadcasts in May. It guest stars Warwick Davis, Tamzin Outhwaite and Jason Watkins. The episode is called The Last Cyberman. It's about identity, it's about responsibility and it's about porridge."
---
The Walking Dead
Glen Mazzara offers some more thoughts on the second half of season three:
That's part of what we do in the back half of the season. Now we get to spend time with some other characters. Glenn (Steven Yeun) comes to the forefront, but has a personal agenda. He wants revenge because Maggie (Lauren Cohan) was assaulted by The Governor. Maggie has her own thoughts about the nature of that assault. Hershel (Scott Wilson) has certainly stepped into the foreground too because he realizes Rick's a good man, has been a great leader, but now is perhaps not up to the task of defending the group. Everyone right now has an agenda. And even Carl (Chandler Riggs) has a plan. Carol (Melissa McBride) has thoughts. This is not the group that was at the end of Season 2 that was huddled by the fire, pleading with Rick to save them. These people are battle-tested and any one of them could take a shot at The Governor.

What will Rick do to actively try to gain some of his sanity back?
There's an episode that's coming up that deals with Rick trying to hold on to his sanity, and I really think it's going to be a fan favorite for the entire series. It's a very special episode. It's very different, and it's the curveball. Sometimes fans like curveballs, sometimes they don't, but it's a pretty exciting episode, so that question gets dealt with head on.
---
Game of Thrones
Some quickie casting news: Dean-Charles Chapman is reportedly playing a young Lannister prisoner, Oddie Braddell is playing Wendel Manderly, and Kelly Long is playing Lady Frey. [SpoilerTV]
---
True Blood
English actor Rob Kazinsky, whose previous credits include the British soap EastEnders and the American drama Brothers & Sisters, has reportedly been cast a series regular for the upcoming sixth season. He will reportedly play Ben, described as "a highly charismatic faerie who takes a liking to Sookie (and vice-versa) and helps Sookie and Jason delve deeper into the mystery of their parents' murders." [TV Line]
---
Once Upon a Time
Here are some set photos from the filming of episode eighteen, featuring the return of Eion Bailey as August Booth/Pinocchio. [Canada Graphs]
---
Being Human (US)
Here are the first four minutes of tonight's episode, "Get Outta My Dreams, Get Into My Mouth."

---
Lost Girl
Here's the synopsis for episode seven, "There's Bo Place Like Home":
Bo faces the daunting task of returning to where it all started: down home on the farm. There Bo faces her old demons - and a new one - to clear the way for the path she will soon be forced to travel.
---
Continuum
Here are some behind-the-scenes photos from the filming of season two. [YVR Shoots]
---
Additional reporting by Amanda Yesilbas and Charlie Jane Anders.