Samsung's Galaxy S and Galaxy Note smartphones have always been two peas in a pod, always mimicking each others's design and/or software. And if these leaked schematics are any indication of what to expect from Samsung this September, it looks like the tradition will continue.
Technology is filled with all kinds of rumors and speculation — real and fabricated. BitStream collects all those whispers into one place to deliver your morning buzz.
This leak, posted by @onleaks (who has a pretty reliable track record for the truth), is reportedly a schematic of the final Note 5. With that being said, all leaks—and especially ones that can be altered with a click of a mouse—should be met with a healthy does of skepticism. However, earlier images supposedly of the new Note 5, such as the design of the bottom speaker grill, match these designs, so there may be more truth here than fiction.
This Note 5 retains a similar design to the Galaxy S6 Edge, but instead of sloping the display, Samsung reversed the curve making the rounded edges against your hand. That's a good thing because the Edge's ergonomics was one big flaw against an otherwise remarkable smartphone.
There's also no indication of a removable back—just a microSIM card slot. That also makes sense since the S6 was the first Samsung smartphone to ditch the (some would say) antiquated feature of removable batteries and storage earlier this year. SamMobile agrees that the Note 5 will most likely see the end of MicrosSD expansion due to the unmatchable speeds of UFS 2.0 (universal flash storage).
G/O Media may get a commission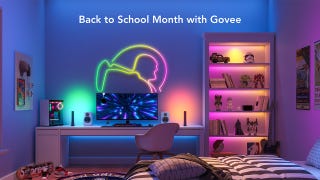 Back to School
Back to School Month with Govee Sale
The only other head scratcher is the reasonably strong rumors that Samsung is toiling away on a 5.7-inch variant of the S6 called the S6 Plus, which seems like it would be directly compete with the upcoming Note (minus the neat stylus).
Obviously, there's a lot of questions that need answering, and we won't really know until the new Note debuts at IFA in Berlin this fall. But hey, it's fun to think about.
Still Cheap But Cheap Enough?:
Free Nintendo Mobile Games? NOPE: Terms like "free-to-play" and "freemium," games laden with hidden expenses, have raised the ire of many, including our nation's most beloved satirists—South Park. But Nintendo is introducing it's own term, "free-to-start." What this exactly means is uncertain, but I swear if I can't even get to the underground level in Super Mario Bros. without forking over some cash, I'm going to be pissed. [Android Community]
Oppo's New Smartphone Comes In Crystal: In the quest to make smartphones look as crazy luxurious as possible, Chinese smartphone maker Oppo is releasing the Mirror 5S, which creates an admittedly pretty cool crystal like pattern on the back of the phone. As far as specs are concerned, it's a more middle of the road option, but if Oppo keeps making smartphones like this, I'm going to develop another case of Chinese smartphone jealousy. [Phone Arena]
What You Might Have Missed on Gizmodo
Hack Exposes What An Utter Piece of Shit This Spyware Company Is
Reddit CEO Says Sorry For Screwing Up For So Many Years
Oh God, Someone Ran Fear and Loathing Through Google's Neural Network
How Hard Is It To Get Kicked Off Brazil's "Sin-Free" Facebook