I've got a horrible habit of obsessing over a supposed need to be filled by a product, then instantly forgetting it once I buy it. But I've had a Contigo Autoseal mug for a year. I just bought two more.
Last fall I was living in Eugene, Oregon, on a long ridge a few blocks up from Hilyard Avenue. The relationship I'd moved to Oregon for was in the process of falling apart and I was doing everything I could do to keep my mind off it. I started getting up early and walking down the hill to the local Allann Brothers coffee shop and getting a mediocre, cardboard-flavored latte just to get out of the house.
For as much as I didn't like Eugene, I really enjoyed my neighborhood. Every other house had an interesting front yard, many of which were gardens full of vegetables ready for the harvest or medicinal herbs going to seed. I'd take a snapshot of plants I didn't recognize (sometimes creeping out the neighbors), then later at home try to figure out what ailment the person in the house might have been trying to cure.
It was getting cold, a new kind of cold to me. Oregon cold, where it's well above freezing but the wet drizzle somehow makes it feel colder. It's a great season, fall in Oregon, but I'm sitting up here in Portland now where the sun is shining and all the windows are closed and my fingers are still going purple.
G/O Media may get a commission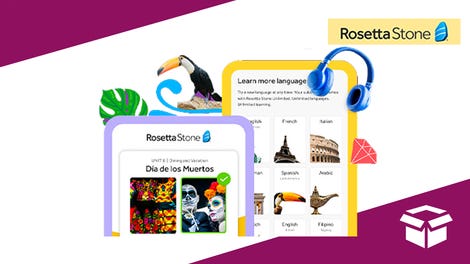 Extra 20% off
Rosetta Stone Lifetime Subscription - All Languages
By the time I'd get all the way back up the hill in Eugene with my latte in a paper cup it would be cold. Nothing like a bad coffee turned cold. So I spent a couple of weeks researching the perfect insulated coffee mug. With the coffee shop's $.30 discount for bringing your own cup, it would only take...well, months for me to make up the $20 I ended up paying for the Contigo insulated mug.
Where I Stop Talking About Weather and Start Talking About Mugs
The magic of Contigo is their one-touch button lids, which more or less make it impossible for a person to spill liquid from the mugs on accident. You have to press the button each time you sip to open a small port on the top of the mug. At first that seems a little bit annoying, but I quickly stopped thinking about it. Grab to swig, give a squeeze, glug-a-lug.
But it's so great to be able to just throw the Contigo wherever you want. My old BMW doesn't have cupholders, but I could just throw the Contigo next to the emergency brake and not worry if it toppled over. I am looking at the Contigo next to my keyboard right now, where it stays throughout most of the year full of coffee or tea.
And because there's an airtight on top, the insulation works very well. I can make coffee in the morning—or at least the second cup—and it'll still be drinkably warm a couple of hours later.
My only complaint is that the insulated mug, unlike Contigo's water bottles, doesn't have an included carabiner clip, which would be handy while hiking or clipping it onto a bag when it's empty. Not a huge deal, but a boy can dream.
And I suppose you could complain that the lids are a bit of a bear to clean, but I've never really had an issue with it, provided you give it a good scrub where the opening hole touches the little scallop that keeps it closed. It can get funky in there if you don't give it a good rinse in between uses. (Or a good soak if you let it get gummed up.)
You can grab Contigo mugs online all over the place, but from time to time Costco sells a special two-for-one package that has two of the steel insulated mugs for $20. They're worth $20 apiece easily (the plastic, non-vacuum seal ones are $10 on sale), but at half off I bought a new pair, gifted my old one to my roommate and shared the matching new ones with my current girlfriend who takes walks with me each morning in the Portland drizzle. [GoContigo]