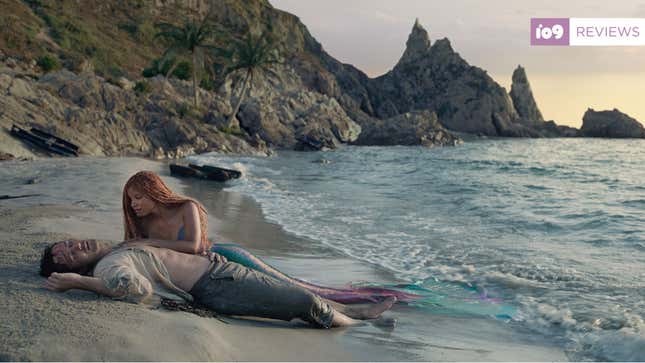 Director Rob Marshall (Mary Poppins Returns) brings audiences a live-action retelling of Disney's The Little Mermaid, the 1989 animated feature that revived the studio. It pays faithful homage to the original film—but doesn't quite recapture its magic. Its saving grace is a cleverly reimagined second act carried by Halle Bailey's sheer tour de force breakthrough performance as Ariel.
Why is Halle Bailey This Generation's Ariel? | io9 Interview
In particular, Bailey's version of composer Alan Menken and late lyricist Howard Ashman's "Part of Your World" is an all-timer; it's destined to become the new standard of the modern Disney classic. Bailey's innocence, her coming-of-age joy, and that incredible voice are the main reasons to see this Little Mermaid. She's Ariel for a new generation—plain and simple.
It's been a while since we've seen a live-action Disney princess so deftly capture the spirit of her animated inspiration while also making the character her own. Even beyond that familiar show-stopper, The Little Mermaid's music helps in this department; new songs by Lin-Manuel Miranda and Menken help expand Ariel's journey of wanting to explore the human world. In this version, she's more than just a girl who leaves the sea after falling for Prince Eric (Jonah Hauer-King). Eric is also more than just an impetus for her actions—as it turns out, he shares the same desire to see more of the world beyond his own kingdom—and Hauer-King brings dimensionality to the character. (Eric even gets a song of his own!) When the romantic leads meet you're all in because it's more than just about looks; they share the same dream—a nice change from the animated film, which notoriously gets made fun of for seeming like Ariel only wanted human legs to get to the prince. Bailey and Hauer-King's chemistry is electric, even in scenes where Ariel can't speak, and their exploration of the cultures beyond their kingdoms nicely shakes up the animated film's very old-world interpretation of royalty.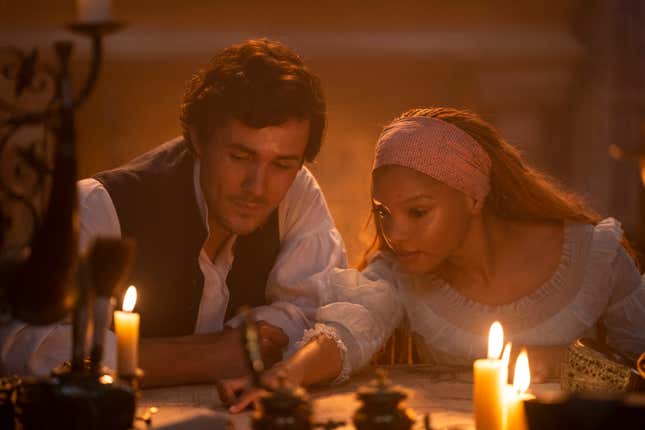 That brings us to the "Under the Sea" of it all. The film misses the mark of making Ariel's underwater life just as important to her as her yearning to explore the world above. In the animated film, she's surrounded by her sisters, a doting father, and a vibrant kingdom filled with life that loves her. It's really about leaving a nest that's nurturing and safe to find yourself in a new world. The stakes are high for Ariel in that sense, but all of this is gone in the live-action version—bizarrely so. The kingdom is dour and dark, and there's not many merpeople around that we can see, including Ariel's sisters. Apparently, they all live in different seas while Ariel is the only one left with her father Triton, played by a very low-energy Javier Bardem.
Needless to say, the song the sisters sing together in the original film is gone, and that absence is just one of the many strange choices here. The biggest one though is that apparently not all sea life is sentient—which becomes kind of creepy when it becomes clear only the sidekicks Sebastian (Daveed Diggs), Flounder (Jacob Tremblay), and Scuttle (Awkwafina) can talk. It makes the ocean world lose so much life that you're pretty much just rooting for Ariel to leave it from the jump. It's so weird to see Diggs have to work every talented vocal muscle to carry "Under the Sea" without any sort of choral backup from sea creatures; Bailey steps in to substitute but the number loses its grandeur. It brings to mind the live-action "Be Our Guest" from Beauty and the Beast—despite the incredible talent involved, these big numbers fall short without the power of animation and additional voices. Diggs, Tremblay, and Awkwafina are fantastic but get a raw deal being the only sea-life to represent the kingdom Ariel leaves behind.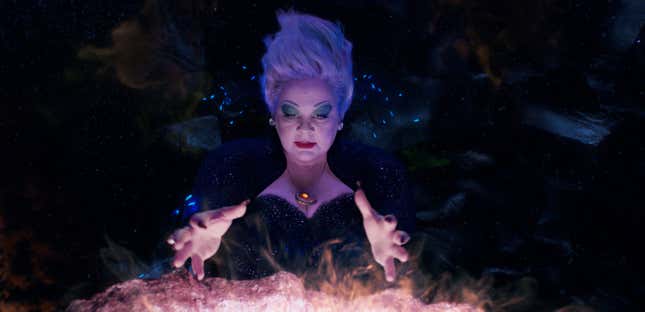 Now let's talk about Ursula. As mentioned, Bailey makes Ariel her own—but Melissa McCarthy doesn't do the same for the Sea Witch. It's a shame because McCarthy is excellent, but she can't escape the shadow of Pat Carroll's iconic Disney villain performance. It's solid and safe, and there's nothing new here; McCarthy looks the part and delivers on homage. Most disappointingly, Ursula's big song, "Poor Unfortunate Souls," loses some of its, ahem, body language in more ways than just the cut line. It's wild because the animated number draws so much inspiration from Chicago—and here you have Marshall, who directed the Oscar-winning screen adaptation of that musical, bringing us Ursula sort of just sauntering and lounging around. What happened? Thankfully, in the final act McCarthy relishes in Ursula's cruelty and goes full aquatic horror—which changes some key things up (for the better) from the animated story we know.
Miranda and Menken's musical partnership does breathe fresh life into the story with new songs that honor Howard Ashman's work to give Ariel a voice, but it's really only because of Bailey that The Little Mermaid sets a new live-action Disney Princess standard. It's a shame that even with her charismatic performance, this is yet another live-action Disney adaptation that feels safe and homogenous in its choices.
The Little Mermaid opens May 26 in theaters.
---
Want more io9 news? Check out when to expect the latest Marvel, Star Wars, and Star Trek releases, what's next for the DC Universe on film and TV, and everything you need to know about the future of Doctor Who.