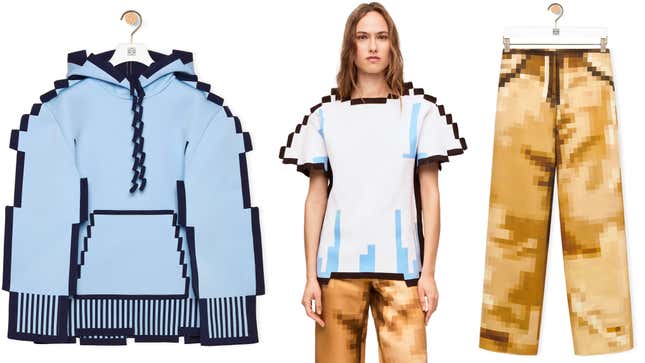 Your favorite retro games will never look as good as you remember unless you play them on an old tube TV whose analog technology helped to smooth out the pixelated graphics of the 8 and 16-bit gaming eras. Or, you can just embrace the pixelation, which is what fashion label Loewe has done with its new clothing line that's finally available for purchase.

Pieces from Loewe's new collection first made their debut on the actual runway at Paris Fashion Week last October, turning the heads of not only those in the fashion industry, but the ever-growing gaming community, too, as models wearing the designs were reminiscent of video game characters from the 2D side-scrolling era, but also modern titles with a retro-aesthetic such as Minecraft.
Fashion doesn't always accommodate comfort, and sometimes, if you're looking to make a statement, you're going to have to step out into the world wearing something other than your favorite sweatpants. To create the pixelated look, some of the items in the new collection simply use fabrics printed with low resolution textures. But others feature trimmed edging with a jagged appearance. Fashion also rarely accommodates affordability, and as expected, you're going to have to pay a small fortune to upgrade—or downgrade—your wardrobe.