Two years ago, a little startup called Lytro shook up the world of photography by introducing the world's first light field camera. It hasn't replaced normal cameras, but now Lytro's got a new toy: professional-grade model and software platform. After you see what this camera can do, you'll never look at still pictures the same.
It's called the Lytro Illum. In a sense, the total package is as much a computer as it is a camera. With a 40-megaray light field sensor (which is somewhat annoyingly untranslatable to a more standard megapixel number), 8x optical zoom range, and high-speed shutter, the image quality is impressive, to say the least. The versatile lens also lets you get impossibly close to your subject and focus on fine levels of detail. When trying out the Illum, the lens actually touched what I was photographing, and the image still came out crystal clear.
Like the original Lytro, this camera makes focusing an afterthought. While the lens does include a focus ring and a zoom ring, the "megaray" sensor collects enough visual information that you can make unprecedented adjustments in postproduction.
G/O Media may get a commission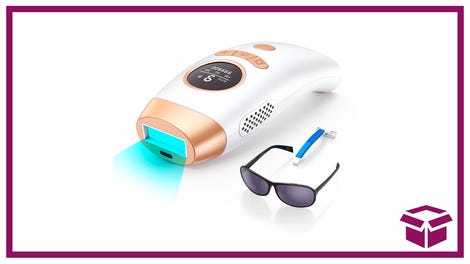 58% Off + Coupon
IPL Hair Removal Device
And you can do it all in the camera using a built-in touchscreen. Want to focus on the driver instead of the hood ornament? Just tap on his face. Try it below. And be sure to click through to see the different demo images that allow for different effects.
The photos become even more dynamic when viewed through the Lytro app on a tablet. Then, you can take advantage of the parallax effect that gives images a three-dimensional quality. This isn't just for images you take using some special 3D setting, either. It works for every image, and if you have a 3D-ready screen, you can look at the images in 3D.
The camera software is all built on Android and is just as important to the total experience as the megaray sensor and sophisticated lens, which contains 13 different pieces of glass. Lytro founder Ren Ng says that the camera comes with "tablet-class computing power," a 2,000-fold step up from the first model. "You cannot make these pictures without a computer," Ng told Gizmodo.
And "make" is actually a better verb to use than "take." After all, with the Lytro camera, hitting the shutter is just the beginning.
Lytro_Trailer_041714_FINAL_720p
The impossible versatility of the Lytro Illum becomes especially exciting when you actually have the camera in your hands. Not only will you feel like a superhero photographer, you'll also sort of feel like a time traveller. This isn't the photography experience you're used to. It's something more—and better. No wonder Apple's been clamoring to get Lytro-like technology in their devices. It's just different.
It's not necessarily cheap, though. The Lytro Illum will start shipping in July for $1,600, a solid jump in price from the original camera's a list price of $400. (You can buy it on Amazon right now for $200.) That jump is somewhat justified by the Illum's new found powers, but the overall package doesn't add anything insanely new to the Lytro package, a package which has always been a neat trick, but has so far failed to change the world of photography forever. Maybe the Illum can make that trick really take off but we'll see.