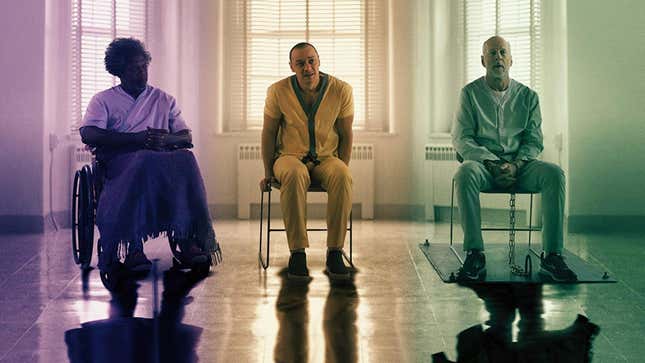 When M. Night Shyamalan turned his intense thriller Split into a surprise sequel to Unbreakable, nerd minds broke all over the world. He then completed the unlikely trilogy with 2019's (highly disappointing) Glass, bringing the superpowered stars of both Unbreakable and Split together. Now in a new interview, the writer/director reveals he considered slyly linking yet another of his films into that universe, but got cold feet at the last minute.
Spoilers of the Week | June 3rd
You guessed it: it's Avatar: The Last Airbender. Aang was supposed to show up and... no, we're kidding, but that would have been wild, right? In fact, it was Shyamalan's surprise hit The Visit, which came out before Split, that he considered looping into his burgeoning cinematic universe.
"There was one tie-in that I almost did," Shyamalan told the Hollywood Reporter. "It was in Glass when they all got to the mental institution. I was going to tell a story about The Visit and how two people escaped from that same hospital. I was going to do it, but I chickened out."
For those who may not remember 2015's The Visit, it was the film that got Shyamalan out of director jail and changed the course of his career entirely. After three high-profile, big-budget misses (The Happening, The Last Airbender, After Earth), the creator of The Sixth Sense recalibrated. He wrote a small, found-footage movie about two kids who go to visit their grandparents for the first time. But—Shyamalan twist spoiler alert—it turns out the creepy grandparents aren't their real grandparents, and all hell breaks loose. The film was a surprise hit and afterward the director made Split, which linked back to Unbreakable and the rest is history.
Considering Glass was, well, not that great, that the story wasn't distracted by this extraneous link is probably for the best. And yet, why not? Saying the imposter grandparents were from the same mental institution wouldn't have changed anything about either story. It would've just been a fun, Easter egg for fans. Which, in retrospect, maybe is exactly what it is now.
Are you disappointed Shyamalan didn't link a fourth movie to his superhero trilogy? Are you still holding out hope to see more of that story continue? Let us know below.
---
Want more io9 news? Check out when to expect the latest Marvel, Star Wars, and Star Trek releases, what's next for the DC Universe on film and TV, and everything you need to know about the future of Doctor Who.