Combine years in the gaming community with access to 3D printers, and you get the business model of My Robot Nation. This small company helps you create customized robot avatars online — and then lets you print them out in ceramic, so your bot friends can join you in real life.
Want to know how it works? I did a test drive of the system, and made my own robot (that's my little guy in the video above). You can try it too! For the next week, My Robot Nation is offering io9 readers 20% off on all robots — design one for yourself, and learn about the future of manufacturing in the process.
If you've ever drooled over the quality toys sold in places like Giant Robot, you're about to go nuts. Visit My Robot Nation, and you're immediately taken to a page where you're given a blank robot. You can customize everything from arms and legs to facial features, body decorations (buzzsaw attachments!), and color. There are 9 billion possible combinations, so don't worry about accidentally making a robot that looks like everybody else's. It's just like designing an avatar for an MMO, except all of it is going to be sitting adorably on your desk in a few days.
G/O Media may get a commission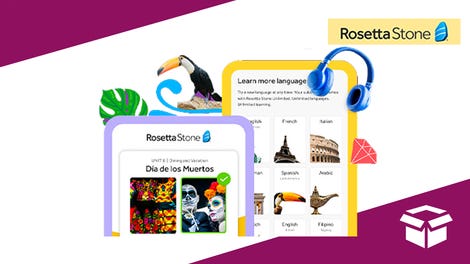 Extra 20% off
Rosetta Stone Lifetime Subscription - All Languages
When I used the interface, I found it incredibly easy to use and fun to play with. You can put items all over your bot's body, change their sizes, and even do things you'd think you're not supposed to.
What do I mean by that? Well, OK, I gave my robot a penis. Look, I'm the kind of person who tests out the parameters of tools by trying to see how profane I can get. That's why I trained my voice transcription software to say "fuck" and made a video of all the pornographic creatures people created in Spore. Anyway, my point is that My Robot Nation will let you stick a giant windup key right between your robot's legs. See? Here's mine. Now I love my little custom robot even more, because it reflects my, um, "special" mindset.
And that's exactly the kind of reaction that My Robot Nation founders Sarah Stocker and Mark Danks are counting on.
Stocker told io9:
It's amazing to see how attached people will get to their robots. They'll spend hours building them and carry them around after. It's about feeling like you've completely made it your own. It's like a Star Trek replicator - you get to imagine something and then hold it in your hand.
Stocker and Danks have worked for many years in the videogame business, where they would often use a CAD program and 3D printer to create models of the virtual avatars they were designing for games. At a certain point, they realized how powerful it was to imagine something online and then make it real. Unfortunately, most consumers don't have access to quality 3D printers that can make colorful toys like my robot. The two vowed to create a way for people to have that experience. "3D printing is just on cusp of exploding," Stocker said, "But there's no good way for consumers to play with it."
Added Danks, "Most of the 3D printing sites out there let you shop for premade objects. We're trying to make the process more creative." He explained that the robots aren't toys in the traditional sense. They're made from plaster of paris, so they're a very light ceramic. They're made with a device that takes a 3D digital object and translates that into a real object by shooting a binder agent mixed with color into a base of soft, powdery gypsum. (This video offers an explanation of how 3D printers work.) When the printer is finished, you pull it from the powder, wash it off, and you've got your DiY robot. Yeah, it's pretty cool.
And it's also the future of manufacturing. As 3D printing improves, it will be used to build electronics, tools, and even bicycles. So your little robot represents the bleeding edge of manufacturing.
Stocker and Danks imagine eventually expanding their business into other custom-made objects, too. The robots are a proof of concept. "We want to change people's behavior, to push the digital world away from making virtual things, to making real ones," Stocker explained. "You could go online and make something personal for your mother for Mother's Day."
But until that happens, My Robot Nation is concentrating on making the most awesome robot toys possible. And they opened the doors to their business at the right time. "We'd love for everybody to have a robot in their stocking this holiday," Stocker laughed. She's not wrong — these little creatures are the perfect geeky gifts.
Want to build your own robot now?

Just go to the My Robot Nation website, and enter this special discount code for 20% off any size robot:
IO9ROBOTS
It can be used multiple times per person, so now is a great time for you to build your robot army! My robot is 3 inches tall, which will end up setting you back about $20 — not a bad price, considering it looks very cool and the details are quite good.
This code will be good until Monday November 21st.
Happy robot making!