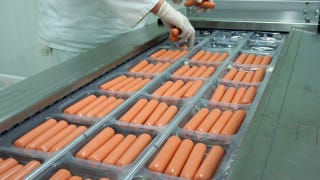 The slightly queasy quote above comes from Professor Mark Post of the department of vascular physiology at Maastricht University, which has been given $480,000 to help find a better way of making meat in a lab.
The general idea is to use stem cell developments to grow tasty, authentic animal tissue in the laboratory, completely cutting out the need to breed and grow actual animals in the outdoor world. Professor Post's method involves growing muscle cells on a velcro pad, using the muscle's own desire to contract as a self-exercising bulking up technique.
Post's "meat" can only grow a couple of millimeters thick at the moment, though, due to there being no way to get oxygen into the core of the muscle, which dies if the lab steak grows too big. Long term, the professor is planning to introduce a mesh that'll deliver nutrients to the inside if his produce, allowing it to grow into proper adult meal proportions. [BBC via Gizmodo UK]
Image credit: Shutterstock
---

Our newest offspring Gizmodo UK is gobbling up the news in a different timezone, so check them out if you need another Giz fix.