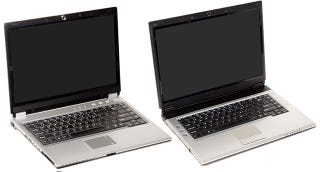 What happens in Vegas stays in Vegas, but when you're talking about Malibal, a laptop purveyor which calls Las Vegas home, the company is moving out two stylish-looking notebooks with Intel Core Duo processors. Malibal says it has the fastest gaming laptops, notebooks and high-end laptop computers in the world.
Though that bold claim remains to be tested, the Bodhi series (pictured at left), starting at $1099, has a 14-inch 1280x768 LCD and weighs just 4.85 pounds. It has a 1.3-megapixel built-in video camera, can be loaded up with up to 2GB of RAM, and has a 4-in-1 card reader.
Its slightly larger and nearly-identical brother, the Lotus, is priced starting at $1115, and has a 15.4-inch widescreen display and it's also light, weighing in at just 5.73 pounds. Both can be equipped with up to a 2.16GHz Intel Core Duo processor. These are some nice, thin-looking notebooks.
Product Page [Malibal Computers]