It's been a bumpy ride, but it's finally over. Today, Verizon announced the completion of its Yahoo acquisition at roughly $4.5 billion, giving us all the gift of a fancy new subsidiary named Oath and officially ending former Yahoo CEO Marissa Mayer's tenure.
Tucked away in the very last paragraph of Verizon's announcement was the following note:
Given the inherent changes to Marissa Mayer's role with Yahoo resulting from the closing of the transaction, Mayer has chosen to resign from Yahoo. Verizon wishes Mayer well in her future endeavors.
Fittingly, Mayer addressed the departure herself on Tumblr. Titled "Nostalgia, Gratitude & Optimism," the Tumblr post thanked her team and the company's co-founders, among others. Mayer ended the post with "Yaho-o-oo!" Normally we'd give her shit for that, but we'll cut her some slack today.
While knew this was coming, it's still the end of an era. As we've previously written, Mayer was brought on to save Yahoo from itself. It's easy to forget now, but at the time, her arrival was met with excitement: According to one oft-repeated anecdote, employees at the company slapped her face on Obama-style "HOPE" posters. She didn't quite succeed, of course, but she did manage to do a lot of stuff along the way, including a bunch of acquisitions and some fancy parties. It's still unclear what her next move will be, but rest assured she has a nice little golden parachute to keep her aloft. (The 2,100 Yahoo employees who will reportedly be laid off as a result of the close aren't so lucky, however.)
G/O Media may get a commission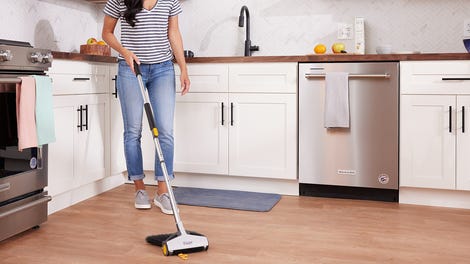 BOGO 50% Off
Flippr - BOGO 50% Off
As for Yahoo itself, the company's operating business is now officially lumped in with AOL, and the resulting tech dodo-slash-Frankenstein is now known as Oath. AOL's former CEO Tim Armstrong will take over as its chief executive.
Here's a statement about that from Verizon executive Marni Walden:
The close of this transaction represents a critical step in growing the global scale needed for our digital media company. The combined set of assets across Verizon and Oath, from VR to AI, 5G to IoT, from content partnerships to originals, will create exciting new ways to captivate audiences across the globe.
That sounds like a load of bullshit, but today's news is not about that. It's about her.
Farewell, Marissa. It's been quite a ride.