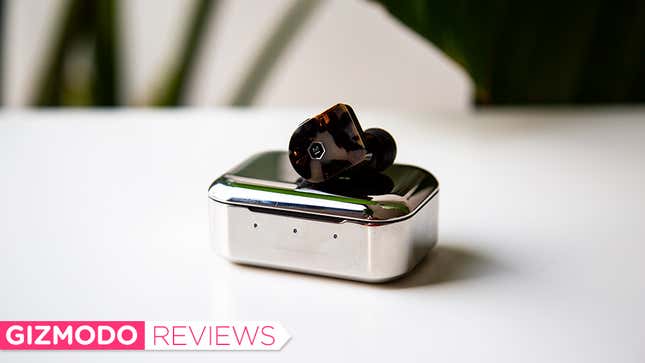 Sound quality on truly wireless earbuds can seem like a bit of an afterthought. After all, most people just want these things not to fall out of their ears. But Master & Dynamic's new MW07 truly wireless earbuds do a few new interesting things. Not only do they feel good and look great. They sound like an expensive dream.
Meet Microsoft's New Surface Laptops
The first thing anyone will notice about the MW07s is that they seem like they were cut from a nice pair of eyeglasses. The marbled acetate exterior is a stark contrast to that predictable blob of black plastic that you'll see from other truly wireless earbud makers, and it's refreshing. You can actually get the MW07s in black, but the grey, blue, and tortoise shell versions look better.
It's not the look that impressed me most about the new Master & Dynamic earbuds. The audio quality is terrific for something so small. I've tried a lot of truly wireless earbuds, and most of them offer uninspired sound. This has always felt like a reasonable tradeoff for the convenience of jamming a little module into my skull and enjoying some easy listening classics like "Sailing" by Christopher Cross. I'm used to truly wireless earbuds sounding deflated or constrained, like hearing music from across an empty room.
The MW07s sound cosy by comparison. A lot of this has to do with good tuning, but it also helped that Master & Dynamic put 10-millimeter beryllium drivers in the earbuds, which the company says these are "the largest in the category." Beryllium drivers also have lighter and stiffer diaphragms that reproduce sound more accurately. So it's safe to say that the MW07 sound better and different for a reason, especially in lower ranges.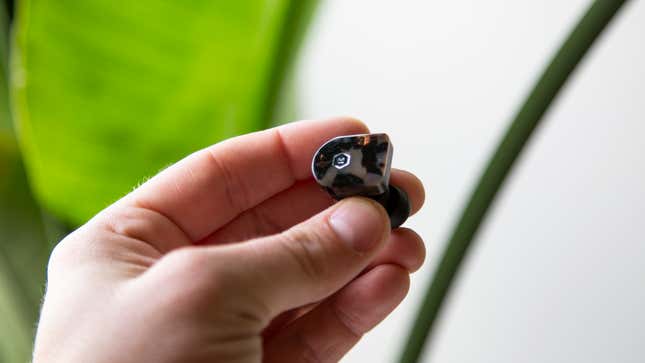 You can hear every instrument and vocalist in the band, especially the delicate texture of Leslie Feist's voice, in "Hug of Thunder" by Broken Social Scene. You can feel the low thump of kick drum on "Nightcall" by Kavinsky without losing the eerie drawl of the high synths. Ariana Grande sounds just amazing on "No Tears to Cry," and the earbuds don't let you miss the low, gentle bass line. Generally speaking, the audio quality is not as good as you might get from a good pair of over-ear headphones, but it's the best I've heard from truly wireless earbuds.
If the Master & Dynamic earbuds' good audio quality is refreshing, the fit of the earbuds is downright surprising. The first thing I thought when I saw them was how big the MW07s seemed. And in my experience, bulky wireless earbuds equal a crappy fit and more risk that one of them will fall out of your ear and down a storm drain. The Bose SoundSport Free earbuds, for example, are slightly larger than the MW07 and make me slightly scared of losing one every time I move at a brisk walk.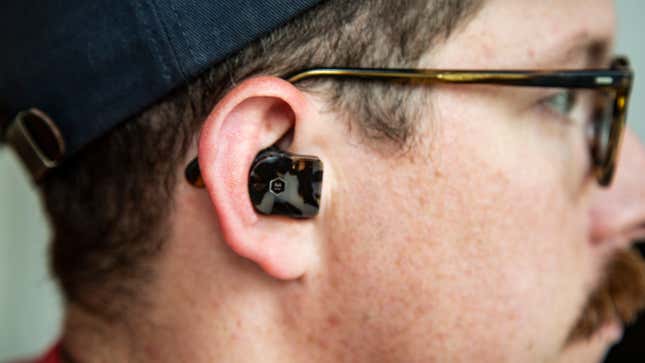 That wasn't my experience with the MW07s, which balanced nicely on the edge of my ear canal as the comb-like wing gripped the inside of my ear. The earbuds don't create a firm seal like others I've tried. (The airtight Jabra Elite 65t truly wireless earbuds come to mind.) Instead, the MW07s just nestled into my head and didn't rattle out when I bounced around. Fit is highly subjective, when it comes to wireless earbuds, of course. The MW07s do come with a few different attachments for different ear sizes, but the fact that the buds themselves are relatively large means that they might not get along with small ears. Still, unlike the Jabras, these float a little bit away from your ear instead of squeezing right inside.
Good sound and good fit aside, the MW07 earbuds have some details that could be improved. The stainless buttons that let you turn on the buds and pause tracks seem a little janky. The shiny stainless steel charging case, while attractive in that back-of-an-old-iPod sort of way, is prone to scratches in that back-of-an-old-iPod sort of way. There's no noise canceling, at all. The earbuds also aren't water proof. The earbuds have a IPX4 water resistance rating, which means they should be okay in the rain but not a good choice if you're going swimming.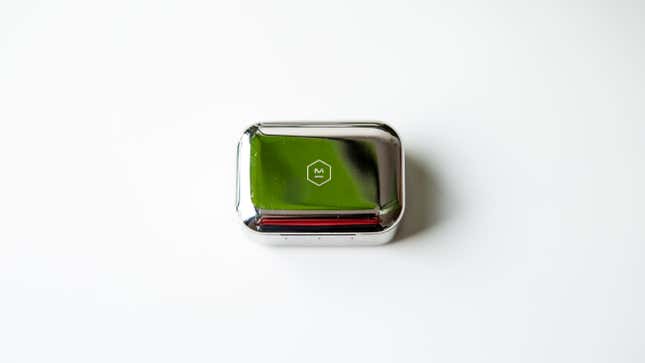 The battery life might be a sticking point, too. You get 3.5 hours on a single charge, and I found that number to be accurate if not a bit generous. You pretty much have to keep the MW07s in the charging case whenever you're not using them if you don't want to end up with dead buds. That's the case with other truly wireless headphones, like the new Sony buds, but it is not the case with the Jabra Elite 65ts, which seem to never die with over five hours of battery life.
The big sticking point for most people, however, will be price. The MW07s are expensive at $300. That's almost twice the price of Apple AirPods, and it's hard to say if these truly wireless earbuds are twice as good. If you're a sucker for great sound quality, you should consider them seriously. If you're looking for a bit of a fashion statement, these definitely look unique compared to the white wireless earbuds everybody else is wearing.
For now, I'm going to keep using these. I want to see how they hold up over time. But I also love the way they sound. I love the way they thump.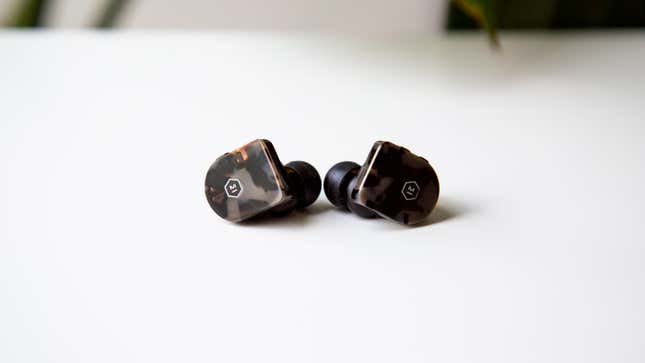 READ ME
Bigger drivers mean better sound and especially good base for buds
Very nice design will make you feel fancy
Bad 3.5-hour battery life might stress out
But not as much as the $300 price tag
These are great-sounding earbuds, though