Listen, I get it. Your phone came with a pair of earbuds, and you've been using them every day, because they're fine. Things could be so much better, my friend. Sometimes in life, it's worth splurging on on a thing you use a lot. And upgrading from your tinny, terrible earbuds to proper headphones is one of those times.
Perhaps the most iconic included-with-the-phone earbuds are the Apple EarPods. These flimsy white headphones come with any iPhone or iPod, although Apple Store will gladly sell you pair for $30 too. You can even buy a virtually identical knockoff pair for half that price or less. Don't do this! If you already own EarPods or other low-priced earbuds and use them daily, consider making some decent if not downright awesome headphones your next gadget purchase. And let me help.
The first question you should ask yourself is whether you're ready to go wireless. The answer to this question should be yes. Some audiophiles still maintain that wired headphones sound better than their wireless equivalents. But these are the same folks who are drawn to open-backed (like the $80 Grado SR60e) or planar magnetic headphones (like the $200 Monolith M-560) which do sound great and don't have to be super expensive. They're just not what the average person would want for every day use when commuting to work or going to the gym.
Wireless headphones offer more flexibility and portability than their wired counterparts, and let me tell you, once you stop worrying about catching your headphone cord on loose branches, the feeling of freedom is sweet. You also never have to worry about a missing headphone jack again. And while wireless headphones do tend to cost more than wired ones, there are still some very affordable and very good options out there (like the $70 Jabra Move headphones or the $100 BeatsX earbuds).
G/O Media may get a commission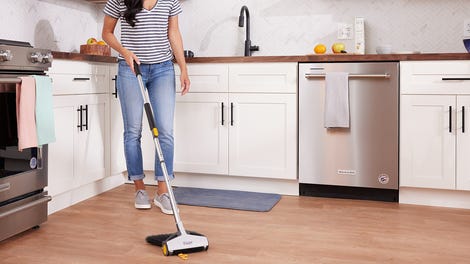 BOGO 50% Off
Flippr - BOGO 50% Off
The second question is a more personal one: Do you like earmuff-style headphones or would your prefer to stick to earbuds? The earmuff category can be broken down into two categories. With over-ear headphones, the cup wraps completely around your ear and sits on your head, while with on-ear headphones, the cup sits on top of your ear.
Both offer superior sound quality as the form factors allow for larger drives and a more natural sound delivery. Personally, I love to use over-ear headphones in the office or when working at a coffee shop as the design also cancels out noise, even if they're not active noise-cancelling headphones. They're also great in the winter because they sort of double as earmuffs. However, neither over-ear nor on-ear headphones are great for exercise. That's where the slim form of earbuds really shines.
The third question is whether or not you want to spend a little extra and get noise-cancelling. Here's the thing about noise-cancelling headphones: They're amazing. Nothing will really change how you use headphones more dramatically than a good set of noise-cancelling headphones. Because then the gadget isn't just a music-playing machine. The headphones also bring you peace in war-like situations, namely air travel. While the $350 Bose QuietComfort 35 has long been a gold standard for noise-cancelling, I actually prefer the $350 Sony WH-1000X M2. You can pay a bit more for the $400 Bowers & Wilkins PX, but you'll be paying for sound quality and style more than functionality. The best noise-cancelling earbuds I've tested are the $170 Jabra Elite 65t. (For what it's worth the Bowers & Wilkins PX and the Jabra Elite 65t are the headphones I use every day.)
Should You Splurge?
You should splurge, but there are rules.
If you're using from cheap earbuds right now, there's a good chance that you're not interested in shelling out many hundreds of dollars for an upgrade. Cheapskates will love the $70 and $100 options I mentioned above. However, you might also want to invest in something you know you'll love, something you know will be comfortable and work dependably.

If you're upgrading from EarPods, try the $160 Apple AirPods. They look just like the earbuds that come with an iPhone, but they're wireless and sleek as hell. The EarPods also feature an impressive five-hour battery life, although the charging case bumps that up to 24 hours if you keep topping them up on the go. You don't get noise-cancelling with the EarPods, and they are not waterproof. Still, everyone I know that owns them, loves them. I've tested the EarPods myself, too. They absolutely work great but don't fit my big ears. (The Jabra Elite 65ts are good big ear earbuds.)
If you're feeling sassy and want the best audio experience, it's worth spending $300 or more on a great set of over-ear headphones. You can find a good deal in the JBL Everest Elite 750C which are fine. I'd recommend spending the extra money and getting the aforementioned Sony WH-1000X M2 or the Bowers & Wilkins PX, though. That's money well spent, as far as I'm concerned. You'll use the headphones every day, and they'll last for years. They'll make your life better. Treat yourself.