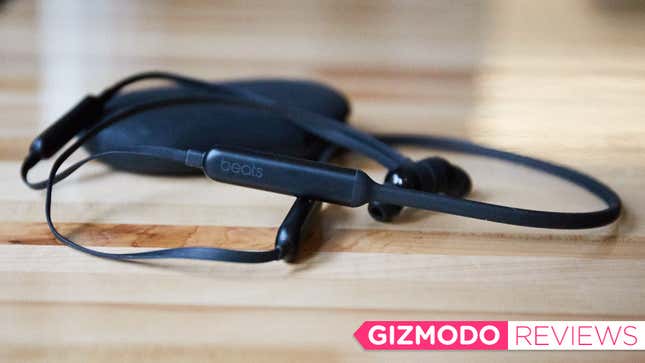 Last fall, Apple killed the headphone jack on the iPhone 7 and tried to convince us all that we would be much happier with Bluetooth headphones instead. Apple's flagship solution for all of that woe came by the way of the AirPods, $160 headphones with absolutely no wires. For the price, I like AirPods, but they aren't without problems. Fortunately, the Apple-owned Beats has a solution for users who want Bluetooth headphones without those problems, and it comes by way of the new $150 Beats X earbuds.
Meet Microsoft's New Surface Laptops
The Beats X are the third product from Beats (and the fourth from all of Apple) to use the new W1 Bluetooth chipset. This Apple-designed chipset should allow for better battery life. It also makes pairing with an Apple device a total snap—as long as your iPhone runs iOS 10.1 or higher. All I had to do to pair was turn the Beats X and bring them near my phone. A "Connect" button instantly popped up and I was off—music ready to be heard wirelessly.
Popping the Beats X into my ears was a pleasant experience too. There was none of the typical soreness—even after using them for hours at a time. Beats includes a choice between four different ear tips. For my own tiny ears the smallest tips worked best— and due to the neck strap I didn't have to worry about a bud popping out and disappearing.
Like a number of wireless earbuds on the market, including the super popular Jaybirds X3s (and will.i.am's Buttons), the Beats X go with a necklace design. When you don't have Beats X in your ears, they have magnetic tips that connect around your neck, looking like... a necklace. I made fun of the Buttons for having a similar feature; I now take that back. It's a great way to keep the headphones around your neck when not in use, without losing them. Buttons still look idiotic, but this magnetic connector is a total win.
Also on the necklace is a controller to control volume, call pickup, and to skip or pause a track. Unlike the Jaybirds X3 the controller is light enough that it never tugs an earbud out of the ear. It also solved my biggest complaint with Apple's AirPods—being forced to control the volume with Siri only.
The Beats X battery is also nice and light, and resides in the chunky bits that rest on your neck. Plugging the Beats X into the Lightning port that anchors one side of the neck band for 5 minutes gave me another 2 hours of battery life, and fully charged I managed eight hours. That pales in comparison to the 40 (!) you'll get with Beats Solo 3s, and the charging mechanism isn't as good as the carrying case that come with AirPods, but the Beats X hit a nice middle ground.
And thanks to the necklace design these things actually work when I'm being active. Even though AirPods fit well in my ears, I would never feel comfortable running with them. I ran with Beats X, and endured a monstrous spin class, without giving it a second thought. They might not be as fitness-focused as Powerbeats 3s, but they work great for active users.
They sound great too. There is more bass than you'd get with AirPods or crummy Apple EarPods, but they don't sound overly heavy. Listening to Future's HDNRXX, the bass notes came through exactly as they should. On a track like Remy Ma's "Shether," each and every devastating blow came through loud and clear. I haven't used the Powerbeats 3, but the Beats X sound about the same as the older Powerbeats 2 earphones. Highs and mids were crisp, and bass, while not overly booming, is very much present. The microphone on the cable works fine for voice calls too.
All told, Beats X are excellent $150 alternative to the $160 AirPods. They're great for anyone who wants the easy way to connect to an iPhone, but would also like better battery life and playback controls. Sure, the Beats X don't look as cool as the earring like AirPods, but if your prioritize function over form they're practically perfect.
README
Registering the Beats X will net users a free $30 iTunes gift card, which is a nice bonus.
Even without using wingtips, Beats X stayed in my ears during strenuous activity.
At $150, these are pricier than the similarly designed, and similarly sounding Jaybird X3. If you're an Android user and don't care about the Beats name, those are just as good.
Pairing with an iPhone is genuinely so easy, it's one of my favorite things ever.
The included Lightning cable for charging is very short. This is probably good if you're using it in a car or with a power pack, but might be short in other scenarios.
As of right now, Beats does not make these in rose gold, which is absolutely a missed opportunity.