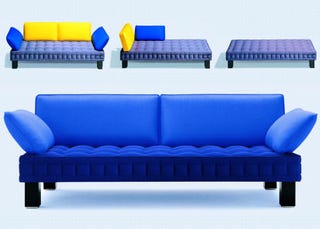 Here's a versatile piece of furniture that has modular parts that can be added or removed at your whim. It has armrests and backrests that can be plugged in, making it a sofa at one moment and a chaise lounge the next. It's no Optimus Prime, but it's certainly no less versatile.
This patented idea is not going to come cheap, though, especially since design heavyweight Matteo Thun is one of its creators. Thun was cofounder of the Memphis Group, whose whimsical style has influenced the hoity-toity style-conscious folks (and the rest of us, too) for the past couple of decades.
What we like about this couch is that if you lose the remote under the cushions, you just unplug the seatbacks and armrests and there it is.
Product Page [Materassi, via treehugger]