With Lost coming back in about a week, the spoiler floodgates are opening. A press release explains Spielberg's alien-invasion series. There are Tron, Percy Jackson, Repo Men and Wolfman posters. Plus Chuck/Supernatural/Smallville/Caprica clips. Also: Iron Man, Doctor Who and Chuck.

Tron Legacy:
Because your desktop pattern demanded it, here's the ultra-high res version (something like 3000 px wide) of the new yellow lightcycle poster. [Cinemablend]


Iron Man 2:
We already reported that Kate Mara is just playing a random FBI agent, not Bethany Cabe as was rumored. Now she's adding that she's just in one scene. [Movieline]
G/O Media may get a commission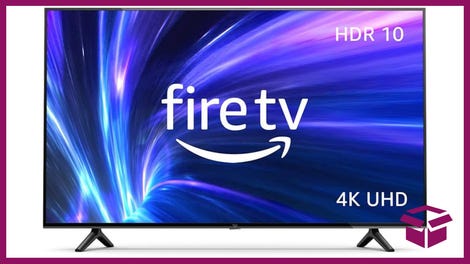 42% Off
Amazon Fire TV 50" 4K Smart TV
The Wolfman:
This movie's final one-sheet goes for the classic "floating heads" design, which always works wonders. [ShockTillYouDrop]
Repo Men:
Here are some new one-sheets showcasing the costs of different artificial organs. [IMP Awards via ShockTillYouDrop]
Percy Jackson & The Lightning Thief:
Are you excited yet? Here are some international posters. [Cinemablend]


Steven Spielberg's Untitled TNT Alien Invasion Series:
We showed you the first pic of this series the other day — now a new press release gives some plot details:
The series opens shortly after aliens have wiped out most of the human population. The aliens are now rounding up the few people left, but they are met with strong resistance from a group of soldiers and civilians who fight for their survival - all while struggling to maintain their humanity.

[Noah] Wyle plays Tom Mason, a former college history professor who becomes the reluctant leader of one of the resistance groups. Also starring in the series are Moon Bloodgood (Terminator Salvation) as Anne Glass, a therapist who works with the surviving children to help them cope with the traumatic situation; Drew Roy (Lincoln Heights) as Hal and Maxim Knight (Brothers & Sisters) as Matt, Tom's two sons; Jessy Schram (Crash) as Karen, who is one of the survivors' motorcycle scouts; and Seychelle Gabriel (Weeds) as Lourdes, an orphaned teenager who helps run the group's commissary.
Lost:
All of the time travel in season five was necessary to set up the theme in season six, which is "Can you change your fate?" Also, Bai Ling will definitely not be back, and we will not be exploring the mystery of Jack's tattoos. And at least one character sings. Also, there may be zombies. [Chicago Tribune]
Feel like a ton of scoop from an anonymous inside source? Okay then. An unnamed source says the episode's opening sequence takes place on board Flight 815.
Jack and Sawyer have a fist-fight and/or shouting match in the aftermath of the bomb, Kate and Sawyer have some interaction as well. The bomb didn't actually explode. Sawyer kisses Juliet goodbye, on the lips — but we also see Juliet alive in the episode. The on-island versions of Jack and Kate have some meaningful interaction too. The 1977 Losties wind up being judged, abducted or killed by someone in the 1977 reality, but we won't see the Dharma people again. Meanwhile, in the alternate reality where Flight 815 lands, Sawyer helps Kate escape the marshall.
Charlie has a significant role in the premiere. We'll also see some "tail section" people on the island, like Cindy, Zach or Emma. We won't see Ana-Lucia, Daniel Faraday, Mr. Eko, or alt-universe Miles in the premiere.
We'll see the Smoke Monster, we'll get confirmation that the Smoke Monster is the Man In Black, and Smokey/Flocke will kill Bram in the premiere. Smokey also kills or judges someone. Everybody around the statue will know Flocke is not Locke, and there's an altercation when he leaves the temple. Richard also appears in the episode. There are some weird shark-jumping moments in the premiere that will shock Lost fans, and you'll wind up more confused than ever.
We'll see Jacob, who's dead for good, but there's talk of him coming back to life in some other form. We'll learn why Jacob gave Hurley the ankh, and we'll get some insight into the Jacob/MIB relationship. Ben feels remorseful for killing Jacob. [SpoilersLost]
The cast talks season six, and Evangeline Lilly says the newest twist lets everybody reinvent their characters one more time. [LylyFord]

The show filmed at an elementary school and a Mexican restaurant, plus the show had set up a section of false airplane fuselage for some filming. [Hawaii Weblog on Flickr]


Some nice promo pics of Hurley. [Doc Arzt]


Episode 6x10 won't be called "TBD," but rather "The Package." [SpoilersLost]
More about airport filming — Desmond is at the airport soon after Flight 815 lands. He runs into Hurley and pregnant Claire, and helps Claire with her luggage. He's met by a limo driver holding a sign saying "HUME," and the driver is Minkowski. [SpoilersLost]


In case you didn't already know Charlie would be back, here's a poster to prove it. [SpoilersLost]


And there are a buttload of screencaps from that new trailer, which included the glimpse of Claire among other things. [SpoilersLost]


Doctor Who:
More set pics from the "Natural History Museum" filming at Swansea Guild Hall, featuring Nicholas Briggs (voice of the Daleks and other assorted nasties) and Alex Kingston (River Song)! [Asitea17 on Flickr via Life, The Universe And Combom]


Billie Piper thinks we've seen the last of Rose Tyler. "Enough is enough now," she says. [BlogtorWho]
Supernatural:
Michael Shanks, fresh from playing Hawkman on Smallville, will appear on this show as Rob, who's part of a local militia. Rob has a wife and kid, but after a terrible loss he devotes himself entirely to his mission... whatever that is. The episode is called "99 Problems" and it's not a big role, says Shanks' official site. [TV Guide Magazine and Gateworld]
Three clips from Thursday's body-switching episode might not spark much optimism:

And here are some pics from the Feb. 11 episode, "My Bloody Valentine." [Buddy TV]


Fringe:
Here's the description for the winter finale, "Jacksonville":
A Manhattan office building is rattled to its core, leaving only one survivor, and the Fringe Team examines his otherworldly origins. Once Walter surmises that what shook the building was something he discovered many years ago, the team races to Jacksonville to help Olivia reconnect with her past in order to avert what they fear will happen next.
Caprica:
A sneak peek and a Canadian promo from Friday's episode:

Also, don't think that Amanda Graystone married into money, says Paula Malcolmson:
She's not even Caprican. She's from another planet, from a poorer family, and she's self made, really. She's not from a pile of money, and there are these sort of doubts – she's married to the most successful man on the planet. So really, no matter what she does – no matter how successful she is, no matter how well she does in her own field, I think there's still a lot of those kind of doubts... I was just actually doing ADR, and I was reminded of a scene we had shot where Amanda and Daniel are in bed together, and they're talking about the past, when they didn't have any money. Zoe was off-base, really, with that, because they came up together. It wasn't like she married Daniel at the height of his fame. They struggled, they didn't pay the rent for months, all that, and then it all sort of came about with one big deal that started everything.
[Fancast]
Chuck:
Here's the official synopsis for tonight's episode:
CHUCK MUST GO ON HIS FIRST SOLO MISSION TO PARIS BUT HE'LL BE LUCKY TO SURIVE THE FLIGHT-KRISTIN KREUK (SMALLVILLE), BRANDON ROUTH (SUPERMAN RETURNS) AND STONE COLD STEVE AUSTIN (WWE SMACKDOWN!) GUEST STAR-CIA agent Daniel Shaw (guest star Brandon Routh) assigns Chuck (Zachary Levi) to his first solo mission in Paris, ignoring Sarah (Yvonne Strahovski) and Casey´s (Adam Baldwin) wishes. During the flight to France, Chuck befriends Hannah (guest star Kristin Kreuk) and flashes on another passenger – the imposing Hugo Panzer (guest star Stone Cold Steve Austin). Meanwhile, Casey helps Morgan (Joshua Gomez) battle Jeff and Lester for control of the Buy More. Scott Krinsky, Vik Sahay and Mark Christopher Lawrence also star.
We already showed you some clips, but there are more new ones at the link. [Cinemablend]
And some promo pics from the episode. [ChuckTV]


And here's what happens in the following episode:
CHUCK MUST PROTECT HANNAH WHEN THEY FIND THEMSELVES PARTNERS ON A MISSION -KRISTIN KREUK ("SMALLVILLE") AND BRANDON ROUTH ("SUPERMAN RETURNS") GUEST STAR-Chuck (Zachary Levi) and Hannah (guest star Kristin Kreuk) unexpectedly become part of agent Daniel Shaw's (guest star Brandon Routh) latest mission. Much to Sarah's (Yvonne Strahovski) chagrin, she gets paired with Shaw, who seems to be trying to get close to her. Meanwhile, Morgan (Joshua Gomez) and Ellie (Sarah Lancaster) continue their mission to get to the bottom of Chuck's secretive and strange behavior. Adam Baldwin also stars.
[ChuckTV]
Smallville:
A sneak peek from the upcoming episode "Disciple":

And some screencaps from that sneak peek. [SpoilerTV]


Heroes:
The Hiro-Charlie storyline hasn't been permanently derailed, says Masi Oka. We will be seeing her again.
Let's put it this way: He has to find Charlie and it will be resolved by the Winter Olympics. I can't say what kind of reunion it will be, but there will be a resolution. Whether it's good or not, the audience will have to decide. But it won't just be talked about - like, 'Oh well, she's lost in time. Too bad!
Also, Hiro will interact with Samuel some more, but he's not too heavily involved in the final showdown with the carnies. And the final confrontation opens up a whole new batch of questions - which absolutely need another season of Heroes to answer. [TV Guide]
Additional reporting by Josh C. Snyder.