Are you ready to speculate about Avatar 2, Iron Man 3 and District 9's sequel? Also, what's the most ridiculous outfit Doctor Who's new companion wears? G.I. Joe 2 gets surprisingly decent writers. Plus Repo Men, Lost, V and Fringe.

Avatar 2:
It's definitely not too early to start talking about the sequel, now that this is the second biggest movie of all time. In any case, the "official" Avatar typepad community is awash with rumors about the sequel, including a rumor that Zoe Saldana will be fired and replaced as Neytiri. And the idea that the second movie will feature a red Na'Vi. There's almost certianly nothing to either of these reports, and as one person points out on the board, Cameron hasn't even written a treatment for the sequel yet. Still, I like the "red Na'Vi" thing. [The official Avatar community]
Iron Man 3:
It sounds as though Iron Man 2 ends in a fashion that segues fairly seamlessly into a third movie, according to comics writer Bob Layton who's spent some time on the set and talked to the movie's writers. And Layton believes that the third movie could easily include the (in)famous "Demon In A Bottle" storyline, in which Tony Stark is incapacitated by his own alcoholism, while Justin Hammer (Sam Rockwell) destroys his company and his reputation. (I think in the comics, it was Obadiah Stane, but they already killed him off in the movies. In any case, it sounds like Hammer survives the end of the second film.) Also, Layton says that the reason James Rhodes becomes War Machine in the second movie is so they can do a War Machine spin-off — or else feature War Machine in the Avengers movie, if there are contractual problems with Robert Downey Jr. Also, there was a rumor on IMDB that Kate Mara was playing Bethany Cabe, a major character from the comics — but actually Mara just has a brief role as an FBI agent. [MTV]
G/O Media may get a commission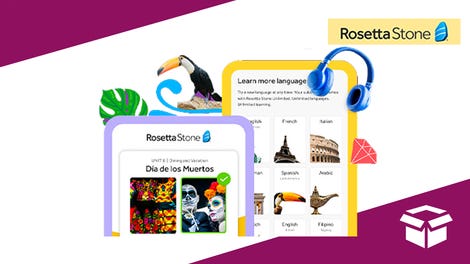 Extra 20% off
Rosetta Stone Lifetime Subscription - All Languages
Repo Men:
We already showed you the R-rated "Red band" trailer for this organ-repossession movie, now here's the all-audiences "Green band" trailer. What do you think — was Repo! The Genetic Opera ripped off?

District 9:
Everybody's been assuming the followup to this movie will be a straight-up sequel, probably called District 10. But Neill Blomkamp says he might do more of a prequel instead:
A sequel might be interesting. I know what I'm doing next so it wouldn't be right away. But the concept of aliens in Johannesburg is such an appealing idea to me and the issues of race and how they meet. All of the things that I had going on with it. I wouldn't mind messing around with it again. I'm open to it if the story works and there's a reason to do it. And [Copley's character] Wikus is so funny to me, I'm very interested in a sort of passive racist like that. If you go forward [with his story beyond "District 9"] it's more of a traditional film but if you go backward I'd be intrigued in that. I'm not so interested in aliens coming back and blowing things up but [a prequel] might be interesting.
And he says his next, untitled, film project takes place 150 years from now in two cities that aren't in South Africa, which would play themselves. [Los Angeles Times]
G.I. Joe 2:
Right after Zombieland writers Rhett Reese and Paul Wernick signed on to write the Deadpool spin-off, they're now signed on to write this sequel as well, raising hopes that the second Joe outing could be less braindead than the first. [IESB]
Despicable Me:
Here are nine promo pics from this animated supervillain epic, some of which are definitely new. [Slashfilm]


Lost:
Either Kate or Jin experiences Room 23 this coming season, say inside sources. [SpoilersLost]
Remember that Mr. Clucky commercial that was one of our first clues that the hydrogen bomb worked, and our heroes are going into an alternate universe? Here's another one of those. Is Hurley really going to be surfing? [LylyFord]

Greg Grunberg will be back as the captain of Oceanic Flight 815 in the season premiere, in a voiceover-only role, where we hear the captain's voice over the PA, and it's hilarious. [TV Guide Magazine]
Doctor Who:
The new issue of Doctor Who Magazine includes the official list of writers for Doctor Who season five. Steven Moffat is writing six episodes, Chris Chibnall is writing a two-parter, and Mark Gatiss, Toby Whithouse, Richard Curtis, Gareth Roberts and Simon Nye are each writing one episode. Simon Nye is a comedy writer who worked on Men Behaving Badly. [DenOfGeek and DoctorWhoOnline]
Now that Matt Smith is officially the Doctor, we're getting loads of iconography. Here are some new promo pics for your enjoyment! [BlogtorWho]


The show was just filming at Llancaiach Fawr Manor, which can easily pass for a building in 1645, and usually has guides who pretend to be living in the 17th century. The windows were blacked out for interior shooting, so the filming was probably for night-time interior scenes. Matt Smith, Karen Gillan and Arthur Darvill were there, and speculation has it the filming was for the "Vampires Of Venice" episode. And an unconfirmed report says Honor Blackman was there too. Also, there's rumor/speculation that the new companion Amy has "psychic clothing" that magically looks like authentic clothing for whatever historical period she visits, but we, the audience, see her wearing a miniskirt. Really. Photos by Ahremsee. [GallifreyBase]


And here's a great Youtube of the recent Van Gogh filming in Cardiff Bay:

Fringe:
Another one of Microsoft's "For Dummies" videos, this time explaining The Observer.

V:
We'll be meeting Erica's ex-husband, according to a new casting call, that also includes a couple other new characters:
[HOBBS] Male... 30s. 40s. He has an enduring strength and intelligence. A mercenary .. He will join the resistance but does not have an allegiance to any particular group. A weapons expert and a bomb maker. A lower middle class upbringing. He is a soldier not an officer but has a keen intelligence and is very resourceful. Recurring Guest Star 7 of 8 Episodes.

[ERICA'S (ELIZABETH MITCHELL) EX-HUSBAND] Male... Late 30s - Mid 40s. A recovering alcoholic. He is tall and has a strength and maturity to him ... a deep soft nature. He is not a cop or a solider(sptv050769). Perhaps a carpenter. He is very much a man. Recurring Guest Star. Two Episodes (104,. 105) possibly more.

[DR. LEAH PEARLMAN] Mid to late 20s... A medical doctor. Leah is a "V" who is a member of the Fifth Column. She does not work on the ship but was sent to help "Vs" undercover should they need medical attention. Recurring Guest Star. Ep#104 possibly more.
Chuck:
Here's the official synopsis for episode four, "Chuck Vs. Operation Awesome":
TO SAVE AWESOME FROM THE RING, CHUCK MUST TEACH HIM HOW TO BE A REAL SPY-ANGIE HARMON ("LAW & ORDER") AND BRANDON ROUTH ("SUPERMAN RETURNS") GUEST STAR-When Awesome (Ryan McPartlin) is mistaken for a super spy by the evil Sydney Price (guest star Angie Harmon), Chuck (Zachary Levi) must become his handler and show him the spy ropes. While on a mission for The Ring, they meet the mysterious Daniel Shaw (guest star Brandon Routh). Meanwhile, Morgan (Joshua Gomez) gets promoted to assistant manager and must deal with Jeff (Scott Krinsky) and Lester's (Vik Sahay) latest hijinks.
Heroes:
Is the season finale, airing Feb. 8, strong enough to serve as this show's final episode? Greg Grunberg says no.
It would not serve as an appropriate series finale. To properly wrap up our show, which absolutely has to happen, we have to come back and do some more episodes. Without question.
I love how his main argument for not cancelling the show is that the season finale is weak. [TV Guide Magazine]
Additional reporting by Josh C. Snyder.