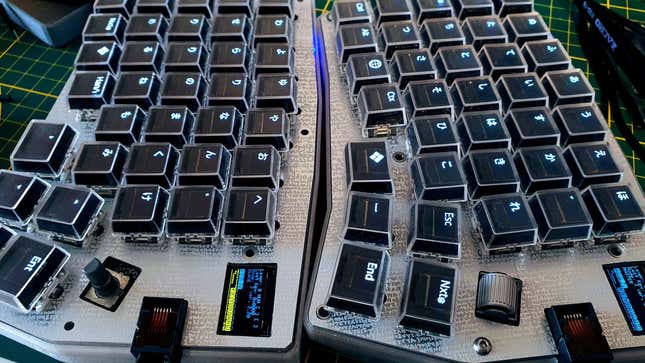 I love a mechanical keyboard with an OLED on it—remember the SteelSeries Apex Pro? It was neat because of the customizable window in the corner of the keyboard. Now, imagine getting those same OLEDs for each key on your board. This would let you change your layout and label macros on the fly. And it's exactly the premise behind the PolyKybd, a mechanical keyboard with OLED displays inside each key.

It's Magic: LG's Rollable OLED TV
The PolyKybd is a split mechanical keyboard with an ortho-linear layout, meaning the keys are laid out in a grid system rather than vertically aligned. The claim is that the closer together the keys are, the easier the travel is on your fingers, but it depends on the person. A tiny Raspberry Pi RP2040 processor is inside each half of the split keyboard and controls the individual OLED keys. The actual mini displays are connected via flex cables. And you can use popular software like QMK to customize it.
The OLED keys already work with various Western characters. But the project's creator, who goes by the handle "thpoll," is working on adapting glyphs for more languages, including Japanese, Korean, and Arabic. The PolyKybd is also already compatible with at least 20 of the most popular mechanical switches available. You'll have to do some razor blade shaving to get the specialized switches to fit. However, standard offerings like the Gateron Pros—the affordable equivalent of cherry switches—are compatible with everything from Red Linears to Brown Tactiles.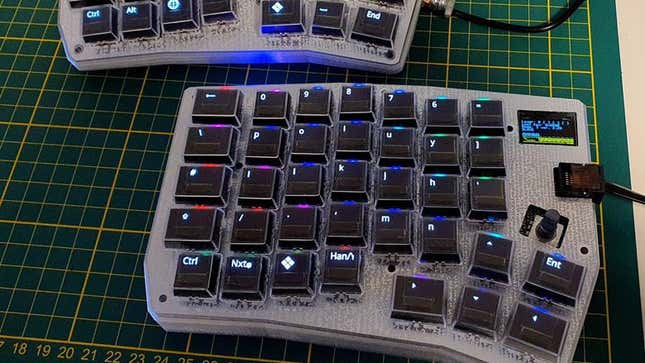 Before you get excited about a group buy, the PolyKybd is currently just a mod. However, the PolyKybd could be available for tinkerers in the future. PC Gamer reported that the keyboard's project page was recently updated with notes of upcoming firmware work, which could mean hardware kits are in the making. However, they would cost over $200 and won't sell at scale.
A future version of this project could include a TenKeyless (TKL) version and a macro pad, which sounds more affordable than a full-size keyboard. OLEDs for each key aren't a new concept to the keyboard modding community, but it's been over a decade since Art Lebedev showed off the Optimus Maximus.