A little while ago, we told you how you can stalk Gizmodo staff members on Facebook, but we completely forgot to actually tell you a bit about each person. Let's fix that.
Before we jump into the fun stuff, there are two three things you need to know:
Our staff members' Facebook pages include each individual's posts along with photos, amusing messages, and the occasional fun link. Basically, those pages make keeping track of your favorite Gizmodo folks simpler than ever. I highly recommend picking out a few folks, clicking on their names, and hitting their LIKE buttons.
Most staff members didn't have a little blurb prewritten about themselves, so you're getting my potentially biased opinions mixed into their bios. Try to avoid holding that against them.
Some of our staff members are shy, so I had to actually stalk them to provide you with some photos. I hope they don't hold that against me.
G/O Media may get a commission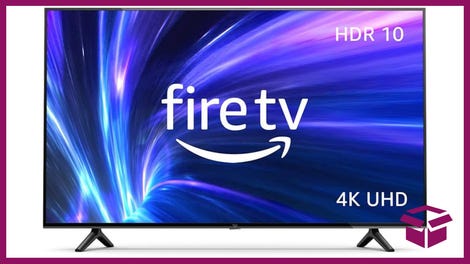 42% Off
Amazon Fire TV 50" 4K Smart TV
Click to view
Once upon a time, Brian Lam lurked around boxing gyms and the offices of WIRED and Maximum PC. He eventually left those for Gizmodo and its tiny staff of four people—two writers and two interns. Now that he's helped both the site and the staff grow, our Editorial Director Extraordinaire is trying out a side project called Scuttlefish, a site focusing on the awe-inspiring nature of the sea.
Click to view
When Jason's not sticking things down his pants or cooing over his adorable pet bunny, he's running a pretty tight ship as Gizmodo's Lead Editor. It's difficult for any of us to misbehave too much under his watchful eyes, so we often try to get him drunk when we want to cause mischief.
Click to view
Joe Brown, our Features Editor, came over to us from WIRED and Pop Sci. Before working for those publications, he was an auto mechanic, a chef, and spent two years absorbing Japanese culture. He knows gadgets well enough to know that 95% of them are junk, and he's not shy about revealing that. He's also not shy about threatening to do terrible things to writers who dare miss deadlines.
Click to view
I'm convinced that Jesus is incapable of writing a post that isn't intriguing, mind-blowing, awesome, or all of the above with a scoop of whipped cream on top. He's the guy who'll manages to make our staff chat room fill with laughter even on the worst days—often by Photoshopping someone's pants off. He's been a writer and an artist nearly all his life and we appreciate the wisdom and talent he brings on board.
Click to view
If I hadn't actually met Joel at CES 2010, I'd still believe that he's some sort of mythical creature who only appears to write a few stunning posts before disappearing into the fog again. He was among Gizmodo's earliest writers, poked around Kotaku, had a hand in the creation of Consumerist, bossed people around at WIRED, contributed to many major publications, and probably still lurks around Boing Boing when no one is paying attention.
Click to view
Bryan has been a private investigator, gadget blogger, and a magazine writer. We're happy to have him back on blogging as our investigative reporter, but we also live in fear that he'll go through our trash and discover our dirtiest secrets if we're not nice to him.
Click to view
If pork buns, coffee, and sweets didn't exist, Matt would probably wither away—so we definitely regularly thank the culinary gods for keeping him around. He brings us so much knowledge about cameras, mobile devices, and other gadgets that we don't even mind having to keep an intern whose sole purpose is to make sure that Matt hasn't fallen asleep at the keyboard again.
Click to view
When Brian isn't reporting for Gizmodo, he's making people laugh while working as an actor, comedian, and master of improv. He's talented and seems to have an incredible knack for turning anything he touches into comedy gold.
Click to view
Before joining Gizmodo, Kat worked for Tech Digest and T3, so she's definitely got a great grip on the UK tech scene. We appreciate her not only for her wit and quirky tastes, but also because she's around to work during the odd hours when the rest of us would rather be sleeping.
Click to view
Despite having been part of an incredibly skilled team while at Lifehacker, I was still blown away by the concentration of talent found at Gizmodo. I'm proud to be surrounded by the people described in this post and would rather tell you more about them than myself. If you feel the urge to know more about me for whatever reason, I suggest paying attention to my tweets.
Click to view
Kyle is the magical force which keeps our interns free of trouble and our chat rooms full of inside jokes. He's the perfect balance of enthusiasm, experience, energy, and kindness—but God help you if you come between him and a sandwich.
Click to view
While we often make fun of Sam for his peculiar taste in sweaters, we definitely appreciate and adore him for all the news culture experience he brings to our team. We believe that the writing talent may run in the family as Sam has apprenticed under his father, a tech and science journalist from the days when computers had double digit MHz clock speeds.
Click to view
I sincerely doubt that Sam knew what was ahead of him when he made his first digital painting about two to three years ago. After all, it'd be pretty odd if he managed to predict that he'd find himself drawing Adam Frucci riding a space raptor or Chewbacca breast-feeding Macaulay Culkin. Either way, he's full of fresh talent and we're happy to have him around for our awkward illustration requests.