Lawrence Lessig is perhaps best known as the digital liberties attorney who transformed copyright rules with Creative Commons, a nonprofit that promotes non-exclusive, internet-friendly copyrights. But now he's a government reformer. And he's decided to run for president.
Of course the road to candidacy is long and difficult. Though Lessig wants to run as a Democrat, as he told the Washington Post in an exclusive interview yesterday, he has to jump through a number of hoops. But he's hopeful that the popularity of his TED talks will make the first part easy. Writes Philip Rucker on Washington Post:
The Democratic National Committee has established a 1 percent national polling threshold for candidates in the debates, which begin Oct. 13 in Nevada. Lessig said he is confident he would make the cut.

"That one percent of America has watched my TED Talks," Lessig said. "If we can be in the debates and frame this issue in a way that becomes compelling, then I think there's a chance to see it take off." ...
Lessig has long been interested in halting corruption in American politics, and recently led a campaign against super PACs. Now he's focused specifically on getting as many US citizens to vote as possible. Given the abysmal turnout numbers we have in most of our elections, this is not a bad idea at all for a reformer. And it has a high-tech twist: Lessig wants to use big data to enable "automatic registration." Rucker continues:
The singular focus of Lessig's campaign would be passing the Citizens Equality Act, a package of reforms that would guarantee the freedom to vote with automatic registration, end partisan gerrymandering and fund campaigns with a mix of small-dollar donations and public funds.

But, Lessig said, "It's not like the one issue I care about is way off to the corner and nothing else is important to me. Everything is important to me — from Wall Street to climate change to the debt — all of those are tied to this particular problem."
G/O Media may get a commission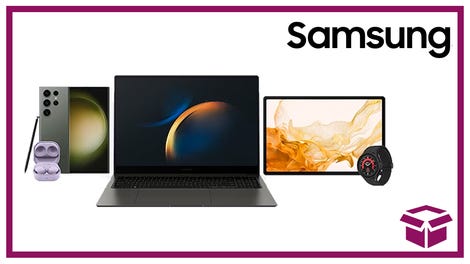 24 hour deals
Discover Samsung - Daily Deal
Lessig says that he'll try to raise $1 million by Labor Day. If he doesn't get it, he'll return it all to donors and give up. If not, we may see one of the weirdest presidential reform campaigns in history.
[via Washington Post]
---
Contact the author at annalee@gizmodo.com.
Public PGP key
PGP fingerprint: CA58 326B 1ACB 133B 0D15 5BCE 3FC6 9123 B2AA 1E1A