Right now, 3D-printed fashion is mired in novelty—each piece seems to scream hey, look what's possible with this craaaazy technology. Someday, printed garments might be commonplace, but that day just isn't here yet. However, that doesn't mean savvy designers, like London-based Earl Stewart, shouldn't tinker with different techniques to see what sticks. In fact, that's exactly why they should.
This is Stewart's XYZ shoe. It's a combination of leather and 3D-printed plastic material.
It's definitely high-concept, but it would fit in on the runway without screaming "3D-printed." And that's exactly the gap that 3D printing needs to bridge: the transition from novelty to ubiquity. That's exactly how Stewart envisions his designs—they aren't 3D-printed shoes so much as shoes that happen to incorporate 3D-printed elements wherever necessary.
"I started this project as a way to showcase the real world potential of 3D printing and how we could start to use its benefits now, instead of the future," he told Gizmodo. "I wanted to utilize the potential to not only re-define what a shoe could be if there were no tooling limits but to also bring in 3D printing as a way to translate the benefits of digital design in the physical world."
G/O Media may get a commission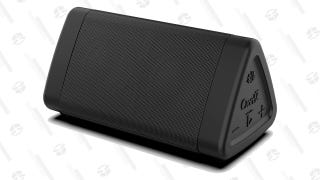 Save 31%
Oontz Angle 3 Portable Bluetooth Speaker
So he took a different route than his peers and created something using 3D-printed components and traditional materials. Other 3D-printed shoes, by comparison, are often produced with very rigid material. Look at these, for example. They look cool, but they don't exactly look comfortable—or even that durable. Stewart thought more about how the foot actually moves, and set out to create something that would, well, let it move like it should.
"All other 3D printed shoes tend to stay in the realm of concept because they are one material prints, mainly a rigid nylon that is painful to wear. The foot is a highly evolved site, it requires dynamic movement in order to benefit the wearer. Most often we can compromise a bit of style for comfort, we are happy to go through a bit of pain to look our best," he explained. "The XYZ shoe is the next evolution towards fulfilling the needs for enhanced biomechanical performance that allows for dynamic movement whilst also supporting where there needs to be support, & comforting where their needs to be comfort, and it doesn't hurt the final aesthetic of the product (subjectively)."
For now the XYZ shoe remains a prototype—a culmination of Stewart's research. He'd like to work toward mass-production, and he's had a lot of interest. Again, it's a problem of a lack of reliable manufacturing infrastructure, along with a lack of capital. But the idea is there—and that's just the kind of thinking that will eventually transform 3D-printed fashion from trendy novelty to timeless technique.