I get a text message from a guy saying to meet him at the Outback Steakhouse at the Discovery Park in Tsuen. Ordinarily I might have passed, only this guy was Brando. Yes, that Brando.
The last time I'd traveled to Hong Kong, I'd narrowly missed meeting Brando thanks to hectic scheduling on all sides. But this time, nothing could stop me from my rendezvous with the legendary USB-gadget maven.
Except maybe... me having no clue where he was. I looked down at the text and blanked. Outback Steakhouse? Where? I consider myself pretty knowledgeable of Hong Kong geography, having traveled there at least a dozen times, but I had never heard of Tsuen before. Turns out this is why:
I don't think I ever thought of Hong Kong as big until that moment.
I was a good twenty minutes late. Red and huffy, I paused outside Outback and glanced around, trying to look for someone whose face matched the one blurry picture I had of Brando.
G/O Media may get a commission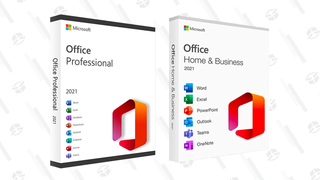 89% off
Microsoft Office Professional 2021 Lifetime License
Maybe it's because the only things I knew about him involved his online store—a treasure trove of gadgets both useful (like the 7-in-1 USB charging orgy) and ridiculous (the choke-able chicken)—but he wasn't what I had imagined. My mental image was that of either a giant nerd, complete with dark suspenders and eyeglass frames taped in the middle, or one of those slick entrepreneurs with oiled back hair. Maybe, like most Hong Kong businessmen, a mixture of both.
Or perhaps, I gleefully envisioned, he'd be an amalgamation of his entire online store, a living embodiment of all things fanciful and useless, be-sprocketed and USB-ports-a-plenty. He'd come fully decked in Workshop regalia, sporting one of those laser pointing bluetooth headsets, his arms wrapped in data bands and possibly one of those tiny camera recorders slung around his neck (though truthfully, I wouldn't mind if that were left out of the ensemble. I'm uncomfortable in front of cameras).
Two boyish looking men, both decked out in hoodies and worn-in jeans, shyly approached me.
"Are you Elaine?" the shorter of the two asked. He waved, in his hand an iPhone. "I am Brando. Nice to meet you."
To be honest, Brando kinda looked like a blogger.
His friend, a tall shaggy-haired fellow with square-rimmed glasses, was called Lawrence and worked with him at his company. I'm still not sure why he was there, but I assume it was for support. There, as he sat across from me, munching on salad and telling me his life story, I couldn't help wondering, Did I make Brando nervous?
"I read a lot of Gizmodo," he told me. "I don't comment because my English isn't good, but I'm always happy to see our goods on there."
After a quick lunch (the first meal he'd eaten that day), we went to see Brando's Workshop.
The place looked like what would happen if a garage hobbyist, comp-sci college student, and nerdy teen mashed all their stuff together and exploded it into an otherwise sterile office. It was, in short, geek heaven.
Boxes, filled with USB cords, wacky flash drives, keychain laser pointers and who knows what else, were stacked on top of each other everywhere.

By one wall, they made a precarious citadel that towered over our heads like some gadgety sword of Damocles. According to Brando, a good chunk of these were being shipped out to other stores, including ThinkGeek. Now you know where they get some of their oddball products too.
Employees stepped gingerly around, avoiding the open containers the best they could. On several people's desks were even more boxes—full of stuff they were still testing, had just tested, were mailing out or were receiving back. Brando wasn't always sure which it was, but he assured me his employees knew.
The more I spoke with him, the more I realized Brando and Giz staffers have a lot in common.
Back in 1998, fresh out of university, Brando started a Palm enthusiasts' site. It became popular among Chinese Palm users and several accessory manufacturers started asking him to promote their products. That turned into a part-time job selling Palm peripherals.
In 2000, he quit his engineering job and went full time, founding Brando's Workshop in his apartment. Four months later, it was big enough to warrant an actual office.
In the beginning, all the Workshop sold was Palm accessories. But by the end of the year, he decided it was worth getting into other products as well.
Fast forward eight years: Brando now lords over 19 employees and takes up an entire floor of the building. He's expanded into USB trinkets, mobile peripherals, watches, toys, random electronics and most recently (and bizarrely) ladies accessories. Like blender brushes and nail stickers—serious ladies accessories.
Brando's "office" wasn't really an office at all, just a corner of the main floor, an alcove set slightly apart from the rest. Arrayed on the cabinet behind his desk were a slew of devices, including a big professional HD camera and a stack of laptops. I could see both a Macbook Air and a Toshiba R500.
"I don't use either of them," Brando admitted. "I just like to collect things I find beautiful."
In that vein, he told me some of the favorite gadgets he sold were the prettier ones, such as the spy camera and MP4 watch. In fact, he seemed especially hung up on the spy gadgets, pointing to a bunch that we hadn't covered and wondering aloud why not.
Despite being surrounded by the latest and greatest, Brando said his favorite and most memorable gadget of all time was still the Palm V. Back in 1999, when he used to ride an hour on Hong Kong's subway—the MTR—every morning, that's what kept him company.
"It was thinner than the iPhone but the battery lasted for very long. I would read novels and news on the train ride over. It's still very memorable for me," he said.
"Palm didn't integrate with cellphones very well. The Palm OS is a very good OS, not like Windows Mobile. But they stopped making their own and switched to Windows Mobile... and so I switched to an iPhone," he explained.
This was before news of the Palm Pre came out. When it got shown at CES, I sent him an email asking what he thought of it.
"I can't comment, because I haven't tested it," he replied cautiously, sounding like a lover burnt. "I hope it has a nice open SDK for developers, then it can have a better future. If it is only a closed OS, no hope."
Before I left, he insisted I see the storage room—the area where they keep everything they sell.
Inside, I felt like I was at a Lilliputian version of Costco: Metal shelves spilled forth a haphazardly categorized assortment of stuff. To my right was a set of tiny remote control cars. To my left was a motley of Bluetooth doodads. I turned a corner and was met by a collection of ladybug-themed fingernail clippers.

Being in there was a strange feeling-exhilarating and claustrophobic at the same time. We blog about millions of things, and the room felt like an aggregation of everything I'd ever written about in one windowless vault.
"Here are our best selling items... our hot items," he told me, pointing at a particular bracket that, quite honestly, was hard to differentiate from others. I nodded, smiled, and scrambled to get out of there before something fell on me.
And then it was over. Brando thanked me again for coming, and as he walked me to the subway station for my hour long journey back downtown, he told me he was elated that anyone would be interested in visiting his tiny part of Hong Kong. I told him that was really sweet of him, and maybe caught a glimpse of a little blush around his ears.
The most interesting thing about Brando's Workshop, I thought, was how much his work sounded like ours.


Brando doesn't actually make the things he sells. Rather, he's more of a gadget hunter.
Brando said most of his early years at the Workshop were spent in conventions all over Asia, looking for vendors from which to source the weird and wonderful. Now that he has employees to do the grunt work, he spends a lot of time reading magazines and blogs, always on the search for new products that would be good for their company. He claims that ten new products are added to various sections of Brando's Workshop each day.
His only real criteria, he said, "I want it to be interesting. I want it to be fun."
So do we, Brando. So do we.