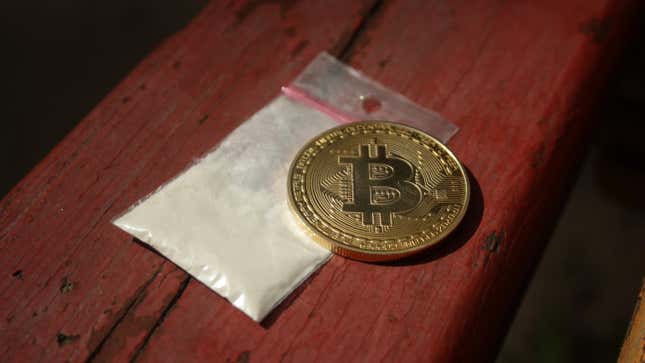 Fraudsters and illicit digital dealers made much less money last year than they did in 2021, though 2022 was still a record year for total stolen in crypto hacks.
Asus ROG Flow Z13 Gaming Tablet Review
A new Thursday report by blockchain analysis firm Chainalysis says that year-over-year revenue from dark net marketplaces was cut in half. In 2021, these malicious actors and international drug dealers made $3.1 billion in crypto through these dark web sources, but in 2022, they only made approximately $1.5 billion. Of that, $1.3 billion came from drug trafficking.
In April last year, German police announced that they had worked with U.S. Department of Justice agencies, including the FBI and Drug Enforcement Agency, to take down the dark net drug marketplace Hydra. That Russian-language one-stop-shop for illicit drugs and hacking tools was by far the largest source of illicit drugs online. It had been around since 2015, and has since been connected to other allegedly illicit crypto projects. By its height, it had a 93% stranglehold on all value from the dark net ecosystem. Police said that the dark net service was responsible for $1.3 billion dollars of drug sales in 2020 alone.
For those still unaware, the dark net is a unique overlay network existing within the internet accessible using Tor. It isn't visible to search engines, and for years it's been a location of anonymized sites as well as illicit marketplaces. Since the infamous dark web drug marketplace Silk Road came on the scene, practically all these illicit transactions are now handled with crypto.
Chainalysis' report noted that Hydra Marketplace had still been the highest grossing market in 2022, despite its early demise. Despite the defunct site's nod to the mythical Greek beast, that if you cut off one head, two grow in its place, no other drug marketplace beat Hydra's four month revenue lead the entire year.
The next three money-makers were Mega Darknet Market, Blacksprut Market, and OMG!OMG! Market. All of them tried to attract old Hydra clients, and all gained some of the lingering market share, according to on-chain data cited by Chainalysis. These marketplaces all started offering crypto money laundering services through so-called crypto mixers. However, the gains simply weren't enough to make up for the massive decline in revenue overall. Average daily revenues for these digital drug marketplaces fell from $4.2 million to $447,000 in the immediate aftermath of Hydra's collapse. Since then, OMG! suffered a DDOS attack and Blacksprut was hacked. Mega has since taken the lead for the most dominant dark net marketplace. 
Since then, revenue has climbed pretty steadily since that past April. On the flip side of things, dark net fraud shops, which sell users personal information and credit card details taken from hacks, have been on a steady decline to the end of 2023. Notably, the fraud shop known as Brian Dumps saw its revenue decline to zero at the tail end of last year. That leaves Unicc and Benumb Shop as the two last fraud shops making a real dent on the illicit personal data market.
Previous analysis showed that illicit crypto activity reached all time highs in 2022, despite the loss of these dark web shops. Part of this was due to some entities being put on lists of sanctioned entities. Still, there was close to $3.8 billion worth of crypto stolen through hacks in 2022, with huge spikes happening in March and October. Like last year, DeFi projects were the most-targeted crypto entities by hackers, accounting for over 82% of all hacks last year.