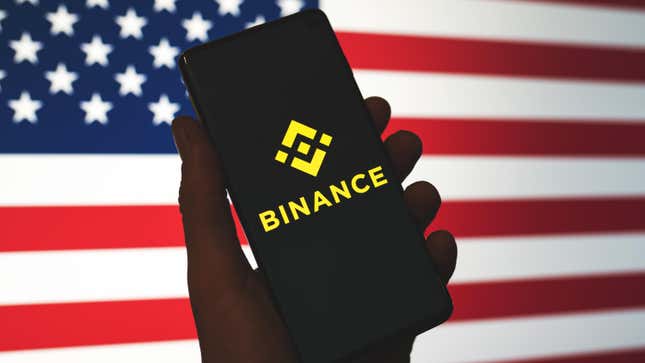 Binance, the world's largest crypto exchange has been linked to a federally charged crypto company and its founder to the tune of nearly $346 million in bitcoin. It comes after months of speculation that federal prosecutors are honing in on Binance over allegedly facilitating illicit money laundering.
He Tossed His Bitcoin, Now He Wants It Back
On Tuesday, Reuters reported that $346 million ran through Binance by the federally cited Bitzlato crypto exchange, according to blockchain data from Chainalysis. Bitzlato had been cited for acting as a kind of "no-questions-asked cryptocurrency exchange" that allegedly allowed $700 million in criminal proceeds to funnel through it. During that time, Binance was just one of three major parties that received these funds from 2018 through the middle of 2022, according to the Treasury Department's Financial Crimes Enforcement Network (otherwise known as FinCEN).
Though Binance had been cited previously as a major party in the Bitzlato arrest by blockchain analysis firm Arkham Intelligence and in a report by CNBC, this is the first time we've been given a number for how much of that money went through Binance. However, it's still a question of how much of that $346 million were funds from malicious actors.
All this noise around Bitzlato just puts more focus on Binance. The news also follows a strange week in federal crypto enforcement. Last Wednesday, the U.S. Department of Justice made a big deal about charges they planned to drop regarding some kind of major international crypto bust. After all the drama surrounding the collapse of FTX and arrest of its founder Sam Bankman-Fried, the crypto community sat on the edge of their seats.
During a press conference, Deputy Attorney General Lisa Monaco said they arrested Anatoly Legkodymov, a Russian national living in China who was the lead at the crypto exchange Bitzlato. Alongside FinCEN, he was charged with facilitating money laundering for crypto criminals.
There were more than a few people deep in the crypto community who collectively shrugged and asked "wait, who is that?" Bitzlato was a small exchange, barely on the register of most of the western crypto community. The other parties Bitzlato allegedly used to transact funds included Hydra, an all-in-one darknet drug shop, as well as TheFiniko, which FinCEN described as an "alleged Russia-based Ponzi scheme." Beyond Legkodymov though, Reuters cited former banking regulator Ross Delta who said this would just force more prosecutorial attention on Binance, especially its compliance check and know-your-customer systems.
Last December, Reuters first reported that federal prosecutors in the Department of Justice were split on whether to charge Binance and its execs, including CEO Changpeng Zhao, for multiple financial crimes. Four anonymous sources told Reuters that Binance had been investigated for the last four years over breaking money laundering and sanctions laws, specifically how the exchange let Iranians trade on the platform despite U.S. sanctions. Prosecutors were split on whether to gather more evidence or charge the company immediately.
In an email statement, a Binance spokesperson told Gizmodo:
"Binance is pleased to have provided substantial assistance to international law enforcement partners in support of this investigation. This exemplifies Binance's commitment to working collaboratively with law enforcement partners worldwide."
Other than the prosecutorial end of things, Binance is also desperately trying to show it won't go down like FTX did just a few months ago. On Tuesday, Binance admitted to Bloomberg that it had "in error" kept some of its collateral for 94 tokens it regularly issues in the same wallet as customer funds. The company told the outlet it was working to move the collateral funds out of the customer wallet, all the while claiming its assets are "backed 100%." Binance has previously relied on a limited audit of its finances to show its assets were backed, though the company conducting that audit ended its relationship with crypto companies. For now, all customers have is the word of Binance and its execs.
Update 1/25/23 at 8:40 a.m. ET: This post was updated to include a comment from a Binance spokesperson.