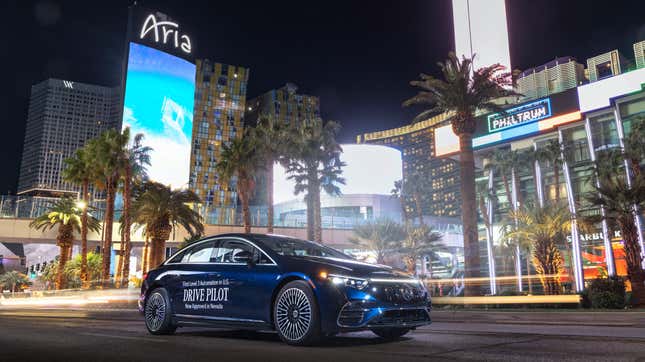 Mercedes-Benz is apparently beating Tesla at its own game as the luxury car manufacturer announced last week that its new car system has a level of autonomous capabilities that is higher than Tesla's current level of self-driving.

Tesla Investors Not Happy With Mr. Tweet's Tweets
Mercedes-Benz said on Thursday that its Drive Pilot system has reached SAE Level 3 automation, which is based on the industry standard SAE Levels of Driving Automation, a taxonomy published by SAE International and used to classify the ability of vehicle automation. SAE Level 3 allows the car to completely take over driving responsibilities, but may require human intervention. With this announcement, Mercedes-Benz has outpaced Tesla, which boasts SAE Level 2 autonomous driving, where a human is the one driving while constantly supervising the car's self-driving technology.
"An unwavering commitment to innovation has consistently guided Mercedes-Benz from the very beginning," said Dimitris Psillakis, President and CEO of Mercedes-Benz USA, in the company's announcement. "It is a very proud moment for everyone to continue this leadership and celebrate this monumental achievement as the first automotive company to be certified for Level 3 conditionally automated driving in the U.S. market."
In an even bigger blow to Tesla, Mercedes-Benz also announced that the company received authorization to bring the Driver Pilot system to Nevada freeways for consumers. Nevada requires car manufacturers to self-certify to the Nevada Department of Motor Vehicles that any autonomous driving technology meets Nevada Chapter 482A for Autonomous Vehicles before it can be driven on highways in the state. Mercedes-Benz says that Drive Pilot can take over driving responsibilities on roads with certain conditions, up to a speed of 40 miles per hour.
"Drive Pilot demonstrates once more that our pioneering spirit is part of our DNA. Certification in Nevada marks the start of its international rollout and, with it, the dawning of a new era." said Markus Schäfer, Chief Technology Officer of Mercedes-Benz Group.
This is not a great look for Tesla, which has built an entire brand around the feature over the last decade. After several newsworthy crashes allegedly involving Tesla's self-driving functionality, the company is being named in several legal cases and investigations surrounding its advanced driver assistance system, Autopilot. One lawsuit involves a fatal 2019 crash where the driver's lawyers claim Tesla's Autopilot feature is to blame for the crash. The second is an ongoing Department of Justice criminal probe into whether or not Tesla misled the public in its advertising for Autopilot.