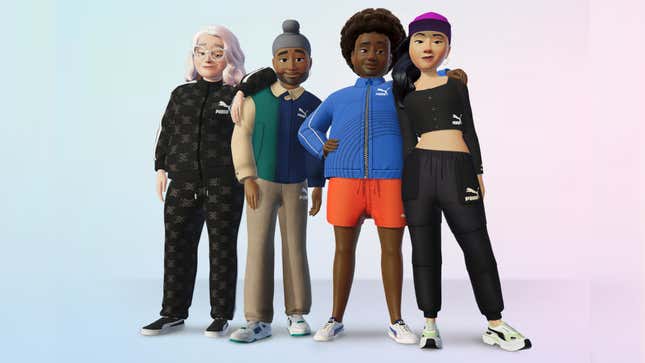 It's been about 20 years since the life-simulator game, Second Life, came out. Nintendo Miis first emerged on the scene more than a decade and a half ago. We live in an era where near-photo-realistic video game graphics are possible. For better or worse, you can deepfake images and videos of notable people with a few mouse clicks. Yet somehow, Mark Zuckerberg is still struggling to get cartoon avatars right. 
Spoilers of the Week: July 8th
Meta is making a suite of updates to its digital alter-ego offerings. The avatars show up most prominently in the company's Horizon Worlds virtual reality gaming platform, but are also available in some forms across other Meta-owned apps like WhatsApp and Facebook. Now, Meta users will be able to customize their virtual stand-in with a few more body type options, according to a Thursday blog post from the tech giant. The company said it is also introducing small upgrades intended to improve the appearance of avatar hair and clothing texture, along with better eye sparkle and simulated light reflection (though only in a limited capacity across some platforms).
But still, after years of heavy investment wherein Meta has poured billions upon billions of dollars into building its metaverse—avatars presumably included—the characters look...just fine? If a personal friend working in animation showed me these designs, I'd be nice and complementary. Maybe I'd say they look "fun." I'd probably assume they were early drafts or mock-ups. Yet for a top-10 global corporation that has spent years developing them, the avatars remain outright lame.
One billion of these lackluster 3D avatars have been created in Meta platforms, the company claimed in its blog post yesterday. Which corresponds to less than a third of all active Meta users. 
It's cool that Meta is bringing expanded body representation to its platforms. Though, why it's taken until this month for the company to offer more than 10 rather curve-less body shapes is a mystery to me. The most recent version of the avatars certainly look a little less charmless than they did in 2021 and 2022, based on the available images. Probably, the hair texture, clothing texture, and eye glimmer upgrades are slight improvements. But these updates aren't even coming to VR, according to the blogpost. Instead, the changes should be visible "in stickers, profile pictures, cover photos and more."
Gizmodo reached out to Meta for more information and clarification on this, and didn't receive a response as of publication time. Regardless, the fundamental problem of Meta's avatars and VR endeavors remains: this is all far too little, too late.
Facebook re-branded itself as Meta in October 2021. In the months since, the company has had plenty of time to deliver an exciting VR landscape chock full of impressive avatar innovation. It hasn't. I mean, for crying out loud, the Bitmoji-rip-offs still don't have legs inside Horizon Worlds. If you're wondering: legs are finally supposed to arrive in the Meta metaverse sometime this year. At this point though, the company will probably need more than legs to back up its grand and long overdue promises of an immersive alternate world.