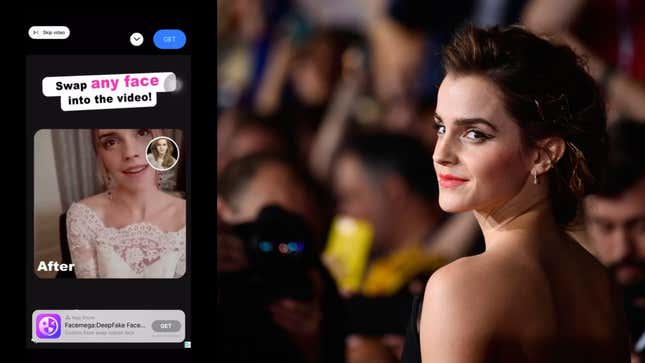 As the role of artificial intelligence appears to continue growing in our daily lives, it's taking people's likeness along with it. This week, hundreds of deepfaked videos featuring faces that looked exactly like Emma Watson and Scarlett Johansson ran across Facebook and Instagram as part of an apparent advertising campaign for an AI deepfake app called FaceMega.

Nobody's Really Watching Reels
NBC News broke the story, and reported that 230 videos were run across Facebook and Instagram. 127 of the ad videos featured Watson while 74 videos featured Johansson, all of which showed the actresses in provocative situations and had sexually suggestive themes.
The campaign was apparently an advertisement for FaceMega, and for $8 a week, users can swap out the faces of someone in a video with photos uploaded to the app. FaceMega has since been deleted from the Apple App store and the Google Play Store.
"This could be used with high schoolers in public schools who are bullied," Lauren Barton, who uploaded a screen recording of one of the videos to Twitter, said to NBC News. "It could ruin somebody's life. They could get in trouble at their job. And this is extremely easy to do and free. All I had to do was upload a picture of my face and I had access to 50 free templates."
The ads seem to go against the app's own Terms and Conditions, which say users are not allowed to "Act deceptively or impersonate any person or organization."
NBC News says the campaign comes from app developer Ufoto Limited, which is owned by Wondershare, its Chinese parent company.
In a January 2020 press release, Meta claimed that it was tightening its grip on manipulated content—the company specifically referenced the growing popularity of deepfakes. Meta said it would remove manipulated videos and photos that are edited in ways to intentionally deceive the average person, or in instances where an AI superimposes content onto a video.
"Our policies prohibit adult content regardless of whether it is generated by AI or not, and we have restricted this Page from advertising on our platform," Meta told Gizmodo in an email.
Update March 9, 2:30 p.m. EST: Google told Gizmodo via email that FaceMega has been removed from the Google Play Store. This article has been updated to reflect that.