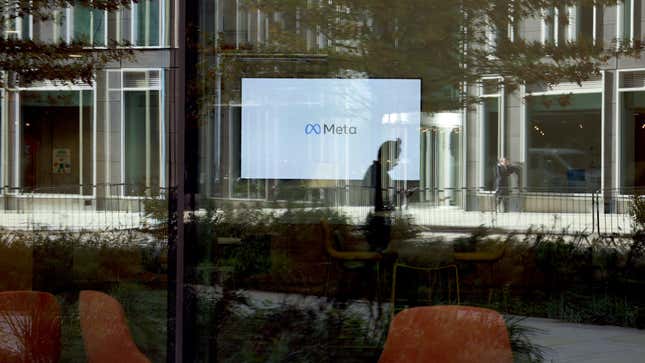 Meta should adjust and clarify its adult nudity and sexual content policies on Instagram and Facebook, according to a new set of recommendations from the tech giant's Oversight Board.

Nobody's Really Watching Reels
Current policies are confusing and too vague, and lead to instances of content being incorrectly taken down, wrote the theoretically independent watchdog group in a report, released Tuesday. Moreover, under those existing policies, enforcement decisions disproportionately censor trans people, non-binary people, and women, the board wrote, resulting in "greater barriers to expression," for marginalized genders.

The recommendations follow the removal of two Instagram posts from the same account, both related to beneficial, gender confirmation surgery. Each post contained a photo of a person's chest, with the nipples covered, and the captions for the photos discussed trans healthcare, top surgery, and contained a fundraising link. Both posts went through multiple rounds of reporting and approval on Instagram before a human reviewer decided, in each case, that the content violated the "Sexual Solicitation Community Standard." The posts were taken down.
But now the Oversight Board has overturned those decisions and declared that the posts should be allowed back up, and that a policy re-evaluation is in order. "The Board finds that the original decisions to remove these posts were inconsistent with Meta's values of "Voice" and "Dignity" and did not serve the value of "Safety,"' the Tuesday report said.
More broadly, the watchdog group determined that Meta's current policies on nudity across its social media platforms are inadequate. The nudity standards are "based on a binary view of gender," which makes it "unclear how the rules apply to intersex, non-binary and transgender people, and requires reviewers to make rapid and subjective assessments of sex and gender, which is not practical."
Moderation of "female nipples," is apparently particularly fraught and challenging. From the Oversight Board report:
The restrictions and exceptions to the rules on female nipples are extensive and confusing, particularly as they apply to transgender and non-binary people. Exceptions to the policy range from protests, to scenes of childbirth, and medical and health contexts, including top surgery and breast cancer awareness. These exceptions are often convoluted and poorly defined. In some contexts, for example, moderators must assess the extent and nature of visible scarring to determine whether certain exceptions apply. The lack of clarity inherent in this policy creates uncertainty for users and reviewers, and makes it unworkable in practice.

To come to a better, replacement policy, the board recommends that Meta conduct an audit and define criteria "so that all people are treated in a manner consistent with international human rights standards, without discrimination on the basis of sex or gender."
Meta's Oversight Board is a detached entity from the company itself, created in 2020. Nobody who works at or is otherwise affiliated with the tech company is allowed to sit on the board, which bills itself as "independent." And the company is required to comply with a subset of the board's decisions. However, that doesn't mean Meta will necessarily be overhauling its nudity moderation strategy or #FreeingtheNipple anytime soon. 
The Oversight Board's overrule of Meta's removal of the posts is considered binding—the company has to abide by it. (Though, a Meta spokesperson told Gizmodo via email that Instagram had already "reinstated the content," even prior to the board's ruling.) But in contrast, the broader findings and conclusions of the report are just strongly worded suggestions.
Recommendations require a public response within 60-days, according to Meta's policies—but the company doesn't have to implement them. The oversight board has provided more than 130 suggestions to Meta, and the company has only opted to fully comply with about 40 of them, according to its own Transparency Center. Further, the decision to take on a set of recommendations doesn't mean Meta makes the corresponding changes immediately. Many intended policy changes announced in 2021 have yet to come to fruition are still listed as "in progress."
Previously, Meta has said it couldn't keep up with the rate of Oversight Board suggestions. The company's initial policy was to respond to all suggestions within 30 days, but the social media giant doubled that time period to cease being in routine violation of its own policy.
Asked how Meta intends to respond to Tuesday's board recommendations, a company spokesperson directed Gizmodo to the 60-day policy. "We are constantly evaluating our policies to help make our platforms safer for everyone," the spokesperson added. "We know more can be done to support the LGBTQ+ community, and that means working with experts and LGBTQ+ advocacy organizations on a range of issues and product improvements."