Cities all over the world have been scrambling to build mega-airports in an effort to lure tourism dollars and modernize their image. The latest to step into the fray: Mexico City, with a gigantic new airport proposal announced today that it's calling the "most sustainable" in the world.
Through a competition, Mexico City has chosen a plan by Foster + Partners, Fernando Romero Enterprise and Netherlands Airport Consultants. Norman Foster is, of course, the architect behind Virgin Galactic's Spaceport in the New Mexico desert, a sinewy, hyper-sustainable orb that seems to rise out of the landscape. And he's bringing a few of the same tricks to Mexico City.
The new Mexico City airport will be almost six million square feet, making it one of the biggest in the world. And instead of divvying up the terminals into various far-flung outposts, the entire structure will be under a single shell that spans over 350 feet in some places. That's a seriously huge building.
Although building this single superstructure sounds counterintuitive to sustainability, having a massive central hub with everything in one place is actually more energy efficient, as gates won't require ancillary transportation, and money doesn't need to be spent powering trams or building tunnels. Everything here in Mexico City will be walkable, which is quite a feat for an airport this large. In addition, the structure itself will function like a giant solar farm and rainwater collection system, with a natural ventilation pattern the designers claim will not need heating or air conditioning for most of the year.
G/O Media may get a commission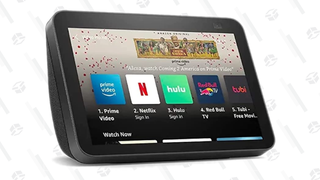 Foster has been behind several airport redesigns, including a famous one for Stansted Airport, outside London, which was completed in 1991. For Stansted, Foster has said he tried to bring the design back to a more glamorous age of air travel where passengers strolled casually from their cars to their planes. Stansted is a very small airport, but you do see a similar parking lot-to-gate layout in many airports today. However, most airports have become rambling messes as they deviated from this model, tacking on extra terminals which required buses or trains to transfer between them. Foster says the singular entrance enables the airport to expand more efficiently:
It pioneers a new concept for a large-span, single airport enclosure, which will achieve new levels of efficiency and flexibility—and it will be beautiful. The experience for passengers will be unique. Its design provides the most flexible enclosure possible to accommodate internal change and an increase in capacity. Mexico has really seized the initiative in investing in its national airport, understanding its social and economic importance and planning for the future. There will be nothing else like it in the world.
Okay, but is Foster's design really a completely new model for an airport? Truth be told, the basic form looks a lot like a redesign by Moshe Safdie planned for Singapore's Changi airport, with a similar "under the dome" structure that will connect all three terminals via glass walkways. You can see similar large undulating roofs and all-in-one terminals in places like Doha, Dubai, and Seoul.
While Mexico City's airport will definitely be one of the world's biggest and might be one of the most sustainable (only performance will tell), it's part of a larger, global trend to push all of an airport's functions into one unified hub. It does make more sense to have all services together, like one centralized nervous system. And it makes airports look and feel a lot more like the small cities that they already are. [Foster + Partners]