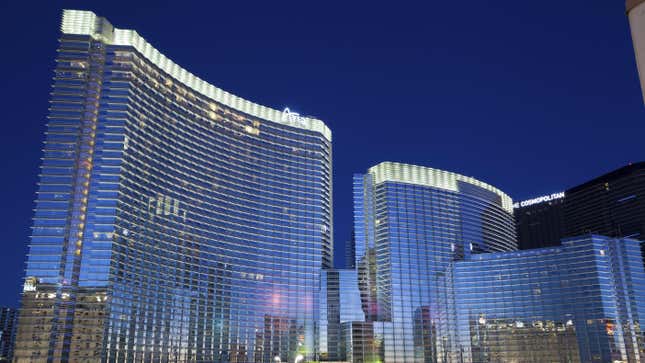 It would appear that MGM Resorts—one of the largest entertainment and hospitality venues in the world (and the largest casino operator on the Las Vegas strip)—just got hacked.
Meet Microsoft's New Surface Laptops
On Monday, local news outlets in Las Vegas caught wind of various complaints from patrons of MGM businesses. Some reports alleged ATMs and hotel room keys at MGM venues had all stopped functioning, while other reports suggested that bars and restaurants located within those venues had also been shut down. If you head to MGM's website, meanwhile, you'll note it's definitely not working the way that it's supposed to.
MGM put out a short statement Monday saying that it had been the victim of an undisclosed "cybersecurity issue." The Associated Press notes that computer outages connected to said issue appear to be impacting MGM venues across the U.S.—in Vegas but also in places as far flung as Mississippi, Ohio, Michigan, and large parts of the northeast. MGM's statement, which it posted to the social media site X, reads:
"MGM Resorts recently identified a cybersecurity issue affecting some of the Company's systems. Promptly after detecting the issue, we quickly began an investigation with assistance from leading external cybersecurity experts. We also notified law enforcement and took prompt action to protect our systems and data, including shutting down certain systems. Our investigation is ongoing, and we are working diligently to determine the nature and scope of the matter."
Later, in a statement shared with Bloomberg, the company confirmed that it had been hit by a cyberattack and said the attack was affecting some of its computer systems. While it's still not totally clear what kind of attack we're talking about here, the most likely culprit in a case like this would be ransomware. Ransomware attacks on casinos aren't quite as common as, say, attacks on schools or small businesses—but they have been known to happen.
It's worth noting that MGM isn't just any old casino vendor, however; it's a huge corporate empire, encompassing a multitude of interlocking businesses, and the impact of a ransomware attack on its business operations could be immense. As per usual, however, with cases involving "cyber incidents," we'll have to wait to see just how screwed MGM really is.