Megan Fox dishes on Michael Bay, the crew of Transformers dish back (and then some) and Bay himself turns out to be the calm voice of reason? WTF? Everything we know is wrong!
While promoting Jennifer's Body, Megan Fox unleashed the latest in her long line of faux-controversial statements intended to get her as much attention as humanly possible, when asked about working with Transformers director Bay:
He's like Napoleon and he wants to create this insane, infamous mad-man reputation. He wants to be like Hitler on his sets, and he is. So he's a nightmare to work for but when you get him away from set, and he's not in director mode, I kind of really enjoy his personality because he's so awkward, so hopelessly awkward. He has no social skills at all. And it's endearing to watch him.
Fox's comments weren't considered so endearing by the crew who'd worked on Transformers, and they wrote a letter in response, which was posted on Bay's website. Here're some "high"lights:
Michael found this shy, inexperienced girl, plucked her out of total obscurity thus giving her the biggest shot of any young actresses' life. He told everyone around to just trust him on his choice. He granted her the starring role in Transformers, a franchise that forever changed her life; she became one of the most googled and oogled women on earth. She was famous! She was the next Angelina Jolie, hooray! Wait a minute, two of us worked with Angelina – second thought – she's no Angelina. You see, Angelia is a professional.

We know this quite intimately because we've had the tedious experience of working with the dumb-as-a-rock Megan Fox on both Transformers movies. We've spent a total of 12 months on set making these two movies... Megan has the press fooled. When we read those magazines we wish we worked with that woman. Megan knows how to work her smile for the press. Those writers should try being on set for two movies, sadly she never smiles. The cast, crew and director make Transformers a really fun and energetic set. We've traveled around the world together, so we have never understood why Megan was always such – the grump of the set?
So when the three of us caught wind of Ms Fox, pontificating yet again in some publication (like she actually has something interesting to say) blabbing her trash mouth about a director whom we three have grown to really like. She compared working with Michael, to "working with Hitler". We actually don't think she knows who Hitler is by the way.
And who is the real Megan Fox? She is very different than the academy nominee and winning actors we've all worked around. She's as about ungracious a person as you can ever fathom. She shows little interest in the crew members around her. We work to make her look good in every way, but she's absolutely never appreciative of anyone's hard work. Never a thank you. All the crewmembers have stopped saying hi to Ms. Princess because she never says hello back. It gets tiring. Many think she just really hates the process of being an actress... Megan really is a thankless, classless, graceless, and shall we say unfriendly bitch. It's sad how fame can twist people, and even sadder that young girls look up to her. If only they knew who they're really looking up to.
G/O Media may get a commission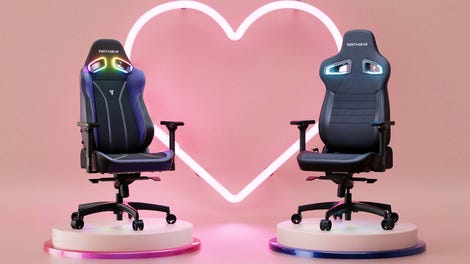 Up to $150 off
Vertagear Gaming Chairs
(You can read the whole thing here.)
After people started noticing the letter and wondering if the whole thing was some bizarro publicity ploy, it disappeared from Bay's site and was replaced with this zen commentary from the man himself:
I don't condone the crew letter to Megan. And I don't condone Megan's outlandish quotes. But her crazy quips are part of her crazy charm. The fact of the matter I still love working with her, and I know we still get along. I even expect more crazy quotes from her on Transformers 3.
Internally, of course, he's trimming his metaphorical moustache and preparing revenge on Fox for her non-"condoned" quotes. But we can't help but feel that everyone comes out of this well - Fox gets her publicity and seems "edgy" again, Bay appears to be the peacemaker who can take being called Hitler in his stide, and suddenly we're talking about Transformers again. Job well done, crazy Hollywood rumor mill!