Yesterday, NBC jumped aboard Starship Zune after its protracted breakup with iTunes. It's clear why—and going with NBC's pricing was only part of it. Saul at the NYTimes says that Microsoft has agreed to develop a copyright filter that would block pirated content from being played on Zunes. Which is exactly what NBC was demanding from iTunes. Sucks, right? Well NBC's president of digital distribution just thinks you don't know what's good for you. Update: Microsoft says NBC was speaking out of turn, and there's nothing like this in the works for Zune. Phew. Update 2: As I suspected, Microsoft's denial actually isn't that black & white, details on that below.
"In the long term, the consumer wants there to be quality premium-produced content, and in order for that to continue to be a viable business, there needs to be significant protection around it." This is the same NBC that was working with AT&T to build a network-wide dragnet for pirated content, so color us totally not surprised. Just don't know why Microsoft would agree to this and give people a reason to avoid Zunes (whether it's a legitimate one or not), when they're already way behind the iPod (which told NBC to take a flying hoo-ha).
Update 2: Saul has since updated the original post with Zune Insider's retort, but he also adds what Microsoft spokesman Adam Sohn told him yesterday when he asked about the copyright stuff:
"I don't think they are wrong, but we are not going to characterize those discussions. We have agreed to work with NBC across a range of topics, and protection of copyrighted material is certainly one of them."
G/O Media may get a commission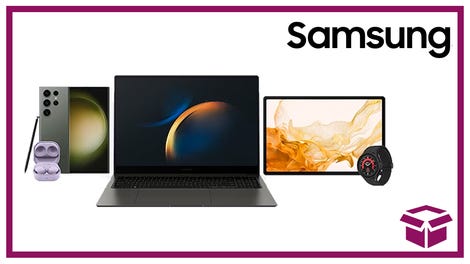 24 hour deals
Discover Samsung - Daily Deal
The big tell? Via email, Saul told me that neither Microsoft nor NBC contacted him about a correction. And this isn't the kind of thing they tend to let lie. But feel free to draw your own conclusions. [Bits]