After Office for iOS proved itself a pretty big disappointment to anyone who was hoping to actually do things with the app, the long-anticipated Office for iPad has finally hit the App Store. It's ok; you can let out a sigh of relief. This time, Microsoft got it right.
The Basics
Whereas Office for iPhone was a subscription-only, highly limited affair that just barely gave you the tools you need to make edits (forget creating full documents), the tablet version sees Microsoft's holy Office trinity actually live up to its reputation. Assuming you have an Office365 account, all three—Word, Excel, and Powerpoint—allow you to open, edit, and create documents, collaborate with other 365 users, and sync to your OneDrive, so you can switch from desktop to mobile and pickup where you left off.
While you can download Office for free on the iPad, you'll need to pony up $100 a year for a subscription that unlocks features beyond basic viewing. That's still better than the iPhone version, which you couldn't use at all without a subscription, and which was severely limited even with one. And in terms of what you can actually accomplish once you're in the apps, the two are planets apart.
---
This isn't just the iPhone version stretched to fit pretty in a bigger screen. Word for iPad does a great job both utilizing space and offering a significant number of features found in the desktop version.
G/O Media may get a commission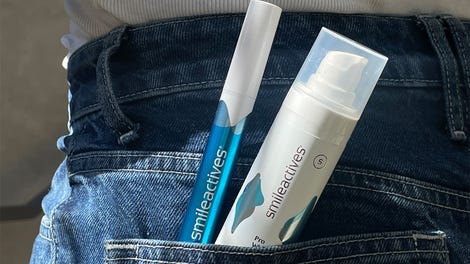 58% off
Whitening Powerhouse Pen & Gel Duo
Just like its browser counterpart, you get the clearly laid out Ribbon menu with your most basic (and necessary) formatting tools. In other words, all the tools the iPhone version left out.
Here, you're not just given a set of barebones options for minor adjustments. There's a full color gradient at your fingertips. Text can be moved and adjusted on the page, turned upside down, given depth, and just about anything else you'd need to make something that looks halfway decent. Next to that is the Insert tab, which gives you an almost overwhelming number of shape, table, and photo options—at least more overwhelming than nearly any other word processing iPad app you've used.
There's also a pretty impressive number of pre-made templates for you to choose from. Nowhere near as many as you'll see on the desktop version, but certainly enough to ensure you're well-equipped for everything from invoices to last-minute resumes (you never know).
One of the most beautiful things about the app is though is how intuitive it is. For even the most casual Word user, there's barely any learning curve at all. Pop in a photo from you camera roll and the text automatically wraps itself to fit. More screen space means you can actually see what you're doing as you're doing it. The only thing limiting factor is how quickly you can type on a display.
Of course, if you're someone who does mobile word processing with any regularity, you're probably going to be more than a little jarred by how much Word contrasts with pretty much every other word processor floating around the App Store. The theme these days is minimalism. Give users the tools to get the text down and after that get out of the way. You're rarely given the option to adjust text color much less fonts. But as always, those apps are generally relegated to the world of frantic scribbles and jotted reminders. Tap something out before you forget and send it to yourself to do something with later—on an actual desktop. Word for iPad is something totally different altogether. You're not just starting something here—you have all the tools you need to actually finish it, too.
---
Again, with Excel, you're not getting quite everything you would on a desktop—but you're getting everything most users will likely ever need. The most impressive thing here is the wildly extensive selection of formulas. On the iPhone version, the existence of any formulas at all seemed novel simply by virtue of how totally non-functional the overall app was. Here, though, the Formulas tab contains four different sections housing upwards of 30 different formulas (at the higher end) in each. For anyone who uses Excel enough to actually need it in mobile form in the first place, this is a huge perk.
Excel also gives us an unfortunately rare example of a third-party app actually improving on iOS's proprietary design. Due to how number-centric the app is, a friendly little "123" button opens up to a traditional keypad, making any sort of extensive data-entry far less arduous. You can also hold down some of the buttons to access other symbols, so you'll never have to break your rhythm to hold shift. That may sound like a small thing, but when your tapping out hundreds upon hundreds of numbers, this is going to save people some major frustration.
---
The biggest change from the iPhone to iPad version is undoubtedly PowerPoint. PowerPoint for iPhone was a joke at best. You could view an already made slideshow, but attempts at any sort of adjustment were more likely to ruin what was there than add anything productive. Here, though, we finally have something that actually resembles what Powerpoint is supposed to be.

Just like with Word and Excel before it, you get a number of different template options to start with or you can choose to load up one already saved to your OneDrive. All the same shape, fonts, colors, etc. you'd find on each of the other apps exists, which may not sound notable but is a fast improvement considering Microsoft's iOS history.
Of course, this isn't the same experience you'd be having on a desktop. Should you want to crop anything, you're pretty much screwed unless you're able to close the app and take care of what you need straight in your camera roll. But that aside, there are some fun additions. Notably, if you're giving a presentation and your iPad is hooked up to a larger screen, you can simply press down on your own display to use your finger as a laserpointer, directing as you talk.
---
However disappointing Office for iPhone was, the iPad version appears all the better for it. Whether Microsoft learned from its mistakes or simply gave in to the fact that it's going to need to give non-subscribers something to work with if they ever want to make a convert out of them, it's a welcome change. If you're not already a 365-subscriber, go ahead and download—you've got nothing to lose.