Take it from Office Web Apps-with over 30 million users, they know a thing or two about reaching the masses. Sure, we now live in a world where it's possible to find out what your third cousin once removed is eating for dinner at this very moment, or what your buddy was actually doing last Saturday night, but despite peoples' tendency to fill the Internet with often inane babble, Office Web Apps is a reminder that openness and the ability to receive feedback is an essential part of getting things done.
True, if you only need to send a document, an email attachment will suffice, but when you want to collaborate with bunch of folks, or when the person you're sharing with doesn't have the same version of Office, things can get messy-that's why you need all the sharing options that Office Web Apps offers. With Office Web Apps, you can collaborate with others and rest easy knowing that your formatting-all those great looking charts and images-is saved as you move from Office on your PC to Office on the web.
And to add even more ways to maximize your shariness-potential-you can share your PowerPoint and Excel documents through your blog or website by using a simple embed code. So the next time you have a presentation for your book club or are trying to organize your kickball team, and your kagillion plus followers need to know about it about ASAP, you'll be able to get it online in no time.
And you can access your formatted Word, Excel, PowerPoint, and OneNote documents online from almost anywhere, like a coffee shop, friend's computer, or smartphone.* Just sign up for a free Windows Live ID (if you don't already have one), then access your documents online by logging into SkyDrive-your personal online storage space. Once your docs are online, you can edit, share and collaborate with others.
G/O Media may get a commission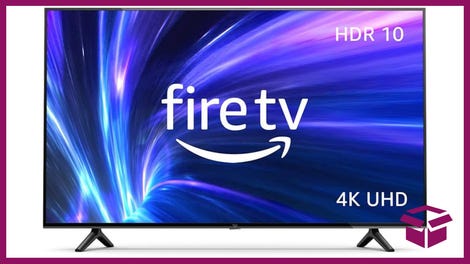 42% Off
Amazon Fire TV 50" 4K Smart TV
And though Office Web Apps is an experience that is really all about doing more with your version of Office, you can use Office Web Apps even if you or your friends don't have Office installed. You – or anyone you're collaborating with — can still view, edit or create docs online using Office Web Apps.
With Office Web Apps, everyone from students to freelancers, community organizers to little league coaches, and book club facilitators to TAs can get their docs in shape, saved, and shared from almost anywhere and you know they'll look consistently great online, too.
Office Web Apps is available worldwide.** Click here to find out more, and click here to get started today!
*An appropriate device, Internet connection and supported browser are required. Some mobile functionality requires Office Mobile 2010 which is not included in Office 2010 applications, suites, or Web Apps. There are some differences between the features of the Office Web Apps, Office Mobile 2010 and the Office 2010 applications.


** Want to know everywhere you can overshare? Click here for information on worldwide availability.