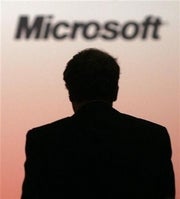 The $1.52 billion in damages Microsoft was ordered to pay by a federal jury for infringing on Alcatel-Lucent's audio patents dealing with MP3 standards may in fact be a smaller note in the story. And not just because that's only about six weeks of cash flow.
One of the analysts said that the ruling could spur Alcatel-Lucent to go after money from other "providers of software and hardware that support MP3 files" such as "Apple Inc.'s iPod and iTunes" as well as Sony, Creative, and Napster (?). While I would peg an ensuing wave of lawsuits as unlikely, such a move could have interesting effects on the industry at a time when standards are essentially the talk of the town.
Bonus awesomeness: The caption for the Reuters photo reveals that the creepy silhouette is in fact Bill Gates. Spooky.
Microsoft hit with $1.52 billion damages [Reuters/Yahoo!]