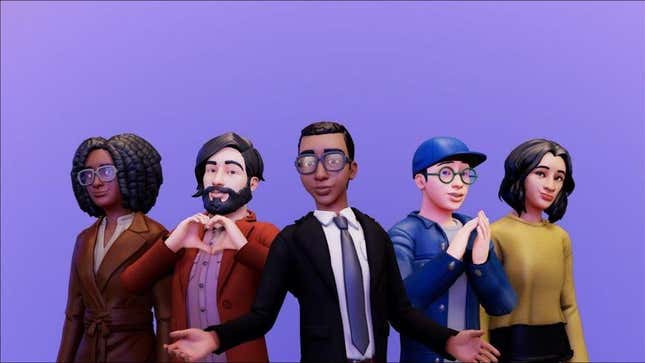 After the dust cleared from Microsoft making moves to lay off over 10,000 employees—5% of its global workforce—it's become apparent Microsoft isn't merely taking a different tact on its virtual reality and mixed reality designs, it's curtailing several of the major teams supposed to plant their virtual flag in the fledgling metaverse.
Warning! Microsoft Wants ChatGPT to Control Robots Next
On Friday, AltspaceVR, a longtime social VR platform known for hosting virtual events, announced it was sunsetting the platform in March. Altspace first launched in 2015, though Microsoft acquired the team in 2017 after the company was struggling financially. Alongside other early VR chat systems, Altspace was used for all sorts of VR meetups including Dungeons & Dragons campaigns long before Wizards of the Coast thought of doing the same thing. In the company's announcement, the team that's left will be moving to work on Microsoft Mesh, which is working to integrate VR avatars into Teams, something the company previously called "a gateway to the metaverse."
It's unclear how much of the Altspace team is still with Microsoft. One of those fired Altspace team members was Cara Mandel, a senior producer working on the production tools and UI for Microsoft's metaverse products.
As noted Monday by Windows Central, the layoffs in Microsoft's VR teams are as wide as they are deep. The team behind the company's Mixed Reality Toolkit, a cross-platform suite of features meant to help people develop mixed reality apps, was completely decimated. Finn Sinclair, a software engineer at Microsoft who worked on the toolkit team, tweeted Thursday that their entire team was given the boot. Steve Lukas, the director of product management at Qualcomm, all but confirmed the MRTK team had been axed in a Tweet over the weekend.
That MRTK was supposed to help with VR integrations with the Unity engine, the same engine used by Meta in their Horizon Worlds app. The suite was also meant to facilitate Meta's headsets as well as Microsoft HoloLens. The company had just released the third generation of MRTK in June last year. The team was supposed to release a new build in February.
And if you were thinking that the toolkit was just an extraneous program with little technical application, multiple developers including Unity devs wrote on Twitter they had made extensive use of the toolkit since its inception.
In an email statement to Gizmodo, a Microsoft spokesperson wrote:
"As a company, Microsoft is committed to bringing the physical and digital together in an open, accessible, and secure metaverse. What we've learned from AltspaceVR helped set a foundation for our shift to Microsoft Mesh to become a platform that offers the widest opportunity to all involved, including creators, partners and customers."
Microsoft was supposed to be Meta's biggest partner in crime trying to fulfill their vague goals of the metaverse, but this latest round of job cuts was born aloft on promises by CEO Satya Nadella to make "changes to our hardware portfolio."
The HoloLens team had already been hurt last year when its lead developer, Alex Kipman, left the company following severe allegations of sexual harassment. On Thursday, Bloomberg reported Microsoft had eliminated even more jobs from the mixed-reality group, according to anonymous sources with knowledge of the layoffs. These developers were working on HoloLens and the "Integrated Visual Augmented System" AKA the AR headsets being developed for use by the U.S. Army. These layoffs come after Congress significantly scaled back funding for HoloLens tech. The Army's own tests of the devices noted soldiers were getting nauseous when wearing the helmets, and that the heads up display was way too intrusive during routine operations.
At this point, the biggest VR project in Microsoft's portfolio remains Mesh. While their own system to rival Horizon Worlds seems to have the same, dry, corporate appearance as Meta avatars, we're still far away from the AR wonderland of operating holograms in a real-world environment as the company first envisioned early in 2021. And just like Horizon Worlds, the Mesh avatars have yet to see the introduction of legs.