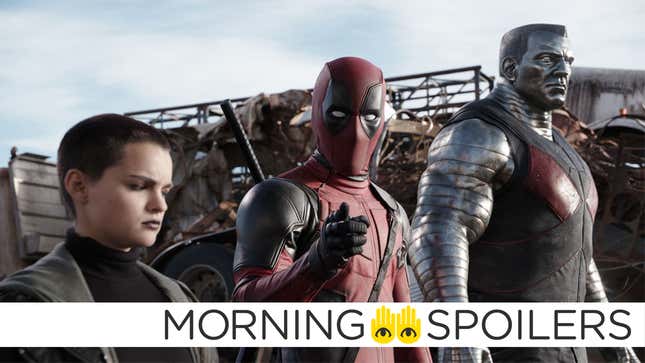 A familiar villain is coming back to The Flash, but with a twist. Kevin Fiege talks about Dan Harmon's involvement in Doctor Strange. 12 Monkeys goes back to the future with some major new casting. Plus,new looks at Resident Evil: The Final Chapter and The Walking Dead, and new Power Rangers posters. Behold, Spoilers!

Apple's Vision Pro Seems Powerful, But Who Is It For? | Future Tech

Deadpool 2
Collider has revealed a rather extensive shortlist for the role of X-Force member and probability-altering mutant Domino. According to the site, Mary Elizabeth Winstead, Lizzy Caplan, Sienna Miller, Sofia Boutella, Stephanie Sigman, Sylvia Hoeks, Mackenzie Davis, Ruby Rose, Eve Hewson, and Kelly Rohrbach are all currently on the not-so-short shortlist being considered for the role.
---
Doctor Strange
Kevin Feige clarifies what Dan Harmon contributed to the movie's script, after reports a few months ago confirmed the writer had been drafted in to write more scenes after principal photography had wrapped:
We are all big fans of his work, clearly...We're also fans of his cartoon Rick & Morty, which is about, of course, humor, but I would argue that any given episode of that show has an unbelievably amazing sci-fi concept that could be its own movie. So, really, we just wanted him to watch the movie, and talk to us about it, and give us his opinions on the sci-fi concepts. That was as important to us as any humor that he could add to the movie.
[EW]
---
Alita: Battle Angel
Leonard Wu is the latest to join the cast. He'll play Kinuba, who, in the manga, was a cyborg arena fighter.[Coming Soon]
---
Mary Poppins Returns
Colin Firth has been cast as the delightfully alliterative William Weatherall Wilkins, who is the president of Fidelity Fiduciary Bank. [Variety]
---
Resident Evil: The Final Chapter
Alice's fight against the T-Virus hordes (and Jorah Mormont) continues in a new international trailer for the film.
---
Power Rangers
Here's an animated gif, gussied up as a "motion poster," featuring new images of the Rangers suited up.
---
The Flash
New images from the set have revealed that Mark Hamill is returning to the show, reprising his role as the Trickster—although persumably the character has had a bit of a Flashpoint twist, considering now he looks a bit more like Danny DeVito's Penguin than he does his usual Trickster-y self.
---
12 Monkeys
Doc Brown himself, Christopher Lloyd, has been cast as Zalman Shaw, the father of the villainous Pallid Man.
...described as a charming but deadly cult leader who preys upon others' tragedies and losses in order to recruit new members into The Army of the 12 Monkeys.
[TV Line]
---
Once Upon a Time
Wil Traval has confirmed he'll return to the show next season as the Sheriff of Nottinham.


---
The Walking Dead
Finally, here's a new featurette in which Jeffrey Dean Morgan talks about characters who aren't Negan.
---
Additional reporting by Gordon Jackson. Banner art by Jim Cooke.