If the holidays brought you an iPad or iPhone, great news. Keep the celebration going—today, January 4, LogMeIn Ignition for iPad/iPhone is on sale for just $19.99!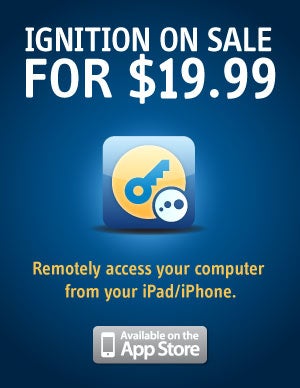 LogMeIn Ignition's remote access means increased productivity, accessing your files from virtually anywhere, and a pat or two on the back from your boss.
Imagine all the possible places you could work: a helicopter, the Grand Canyon, a helicopter flying over the Grand Canyon...almost any place.
Ignition for iPad/iPhone gives you control of your home or work computer right from your iPad or iPhone, just as if you were sitting in front of it. You'll be able to access any file and run any application, from anywhere. So leave the office and your laptop behind.
As the top-selling third party iPad app, and the most downloaded productivity iPhone app of 2010, Ignition for iPad/iPhone is the ultimate app for business or personal use. You're always just one touch away from accessing all your files, all your applications, anywhere, at anytime.
So Photoshop an image while stuck in gridlocked traffic, check out a spreadsheet on the subway, or grab some vital files off your home computer while in your tent on the Appalachian Trail. With LogMeIn Ignition for iPad/iPhone, your office just got a whole lot bigger.
The year is just getting started, but this sale ends January 4. So get Ignition for iPad/iPhone and get out there!
Visit the Apple iTunes app store to purchase LogMeIn Ignition for your iPad and iPhone.