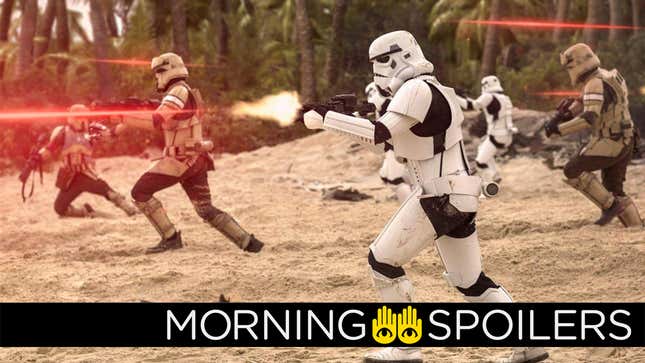 Now we know when to expect Marvel's Inhumans TV show. Brad Peyton talks bringing Rampage to the big screen. Detective Pikachu has found its director. Plus, tons of new images from Rogue One, a glimpse at Westworld's season finale, and Sense8 might be back even sooner than you expected. Spoilers now!
Meet Microsoft's New Surface Laptops

Rogue One: A Star Wars Story

Among a report about Tony Gilroy's hefty wages after being brought on to improve the film during re-shoots, THR says that one of the biggest changes added to the film at the time was the process of fixing the film's ending, among other issues. Sadly no details about what required fixing have yet to be revealed.
Meanwhile, Disney has released new high-res images from the film—click through to see more. [Star Wars News Net]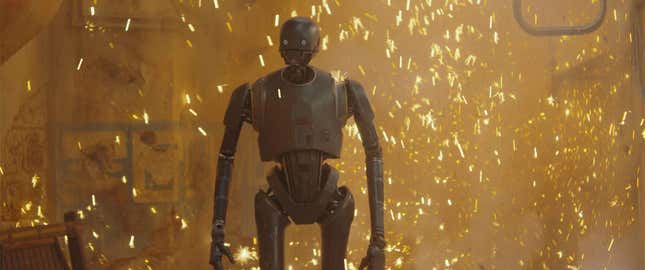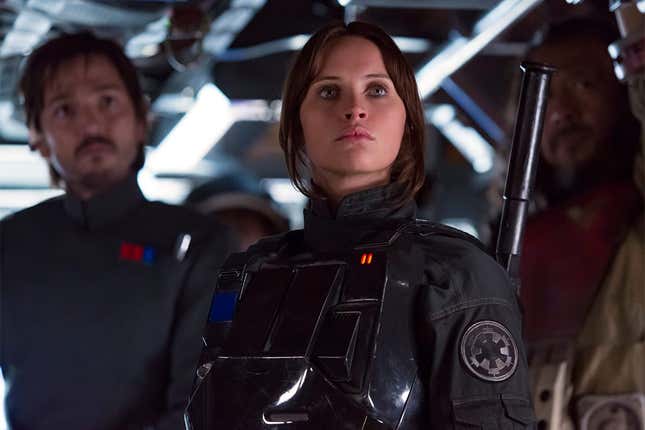 Diego Luna and Felicity Jones play with action figures and discuss the movie in a new video interview with MTV.
---
Detective Pikachu
Rob Letterman (Goosebumps) has been hired to direct. [/Film]
---
Roger Rabbit 2
Robert Zemeckis spoke with The Telegraph about his unproduced Roger Rabbit sequel. The script, which Zemeckis describes as "magnificent," is "more a continuation than a sequel." It follows Roger and Jessica Rabbit "into the next few years of period film, moving on from film noir to the world of the 1950s." A digital version of the late Bob Hoskins would portray the ghost of Eddie Valiant. Sound good to you? Well, according to Zemeckis, the film has no chance of getting made:
The current corporate Disney culture has no interest in Roger, and they certainly don't like Jessica at all.
---
Rampage
Director Brad Peyton talks about adapting the classic game into a live-action movie.
There's the three, the lizard, the ape and the wolf, so we're keeping it similar. With Rampage, we are using our love of the original game as our inspiration. It's going to be a lot more emotional, a lot scarier and a lot more real than you'd expect. So you look at that original concept about a lab that affects these animals and makes them rampage, and that's the nugget.

If they called me tomorrow to do Call of Duty, I wouldn't want to play any of the Call of Duty games. I'd have to come up with something that deserves to be its own thing. That's where a lot of these movies can go wrong… it's a monster film, so the stuff that I did on Incarnate, stretching my muscles in the horror space helped. Obviously, it's a much bigger movie and it's meant for a broader audience, but there still horror elements, there's still a monster movie at the core.
---
The Lion King
Jon Favreau wants to incorporate VR into his filming process:
I'd gone over at lunch just to see what the new VR technology was, and by the end of it, we were starting to try to figure out how to use VR in shot design. It's kind of like if you have a person wearing the HMD, wearing the visor, [if it's] is the audience member, you write code one way, but if that person is the camera, you're using the same tools, but you're kind of changing the work flow so that you're using it to build the footage, as opposed to using the VR to observe the footage or experience the content. So what's nice is that there's so much innovation in this area, so much investment in these technologies, and they are really helpful.
---
Assassin's Creed
The cast discuss the film's... more involved approach to the Animus concept from the gaming franchise.
---
Beauty & the Beast
There's maybe an extra second or two of new footage in this international trailer for the film.
---
Alien: Covenant
Here's a new behind-the-scenes image shared to celebrate Ridley Scott's birthday yesterday. Seems like a bit of a harsh thing to say about Ridley Scott, if you ask me.
---
Cars 3
A new international poster for the film features significantly less car crashing. [Coming Soon]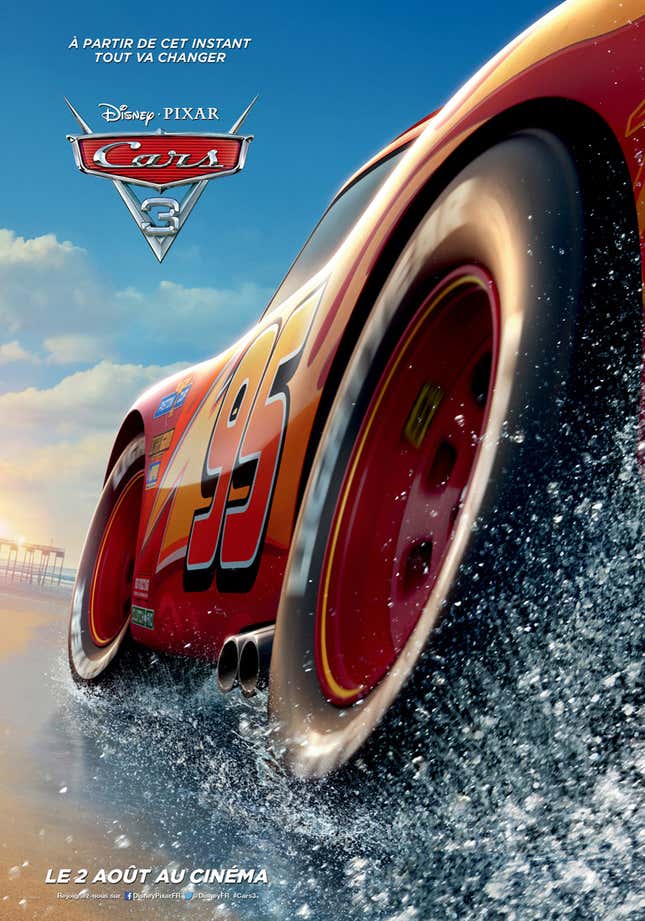 ---
Inhumans
Greg Foster, CEO of IMAX, said at a recent conference the first two episodes comprise around 80 minutes of footage, and will debut exclusively in Imax theaters across all territories on or around September 1, ahead of a two-week theatrical run. ABC will then premiere the first episode of the eight-episode series on September 26. [THR]
---
Sense8
Surprise! Apparently a Christmas special of the series is premiering on Netflix December 23rd, according to Netflix's page for the show—although it has been quickly edited to remove mention of a special episode. [Spoiler TV]
---
Doctor Who
The Ghost crashes the party in a new "iconic image" for the Christmas special.



---
Westworld
Finally, new photos have been released from the 90-minute season finale, "The Bicameral Mind." You can find more at the link. [HBO PR]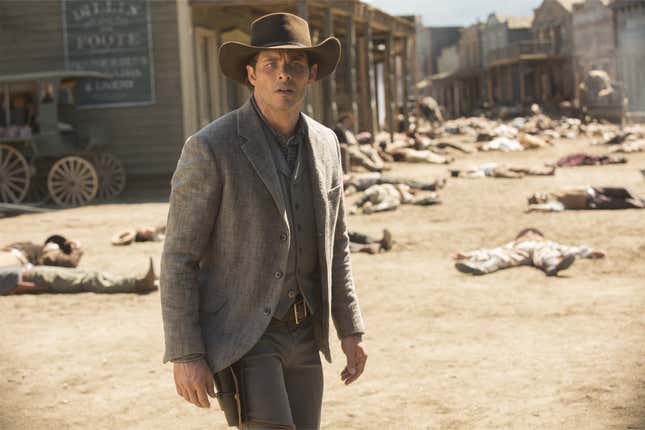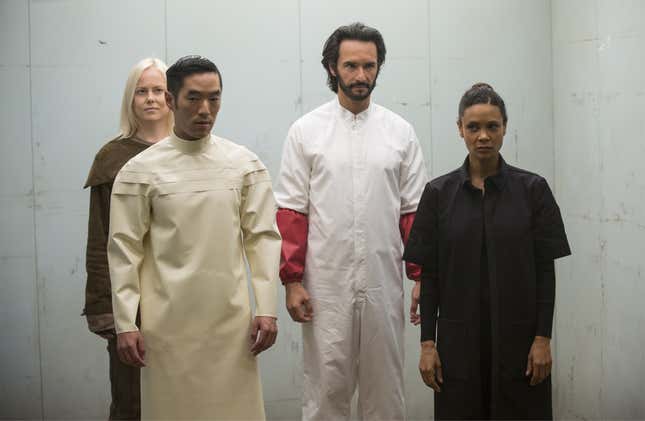 ---
Additional reporting by Gordon Jackson. Banner art by Jim Cooke.