Maybe we're entering that time of year when you never want to leave your house. That's just fine, because there are plenty of beautiful things for you to pass your time with right here. From a cloud bridge, to perfectly looped GIFs, here are the most beautiful items of the week.
---
59 photographers in 49 cities, more than 200,000 photos, and one really awesome country: China. After you watch this incredible time-lapse, you will want to go to China and backpack for three months.
---
G/O Media may get a commission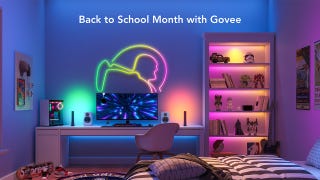 Back to School
Back to School Month with Govee Sale
Sergey Dolya took some incredible photos in an expedition to the North Pole on board a Russian Arktika-class nuclear ice breaker. In the words of Buzz Aldrin, "Beautiful, beautiful. Magnificent desolation." By the way, did you know that you can get a cabin on board these and other industrial ships?
---
It may be the always incredible aerial photography by our friend Jason Hawkes or the combination of The Shard, the glowing Tower Bridge, the City buildings, and the beautiful dusk, but London is starting to look like a proper city from the future.
---
It looks like a scene from Close Encounters of the Third Kind, but it's real—an awesome view of one of the weirdest sky phenomena you can watch from Earth, witnessed at the Levi ski resort, in the Finnish lapland.
---
The problem with building man made structures in natural wonders like mountain ranges is that they can sore your eyes pretty quickly. Some parts of the world should be left untouched! But imagine a bridge like this one, designed to look like a cloud, on top of a few mountains.
---
Futurism and glamour are inextricably linked in American history. The sleek techno-utopian futures of yesteryear—the ones filled with flying cars, jetpacks, and automatic highways—couldn't exist without the support of this concept that's equal parts intrigue and attraction.
---
You may have noticed the sepia-toned Google doodle today and clicked through to find out it's a train designed by midcentury industrial designer Raymond Loewy, whose 120th birthday would've been today.
---
The animated GIF has grown to be one of the internet's finest artforms. But what separates the Michelangelos of the GIF world from the finger-painters is the ability to create infinitely looped GIFs that seemingly go on forever and ever.
---
Even though the Clocktower Gallery has been around since 1972, you might never have known it was even there. It resides in the top two floors of a government-owned building in Tribeca, which is just part of the odd story of how this alternative art space has operated through the years. Now it is hosting its final show, Dale Henry: The Artist Who Left New York, before the space is cleared for a luxury apartment.
---
Houstonians might be eager to snap up pieces of the Astrodome's turf and concession stands, but they weren't prepared to authorize $217 million in bonds to preserve the aging stadium through a redevelopment scheme that would transform it into a convention center. On Tuesday, Houston voters rejected the plan, "very likely dooming it to demolition," according to The New York Times.
---
The Forbidden City in Beijing was at least partially constructed with the help of an "artificial ice path," a 70-kilometer frozen superhighway created and maintained by 16th-century construction crews to slide huge stones into Beijing.