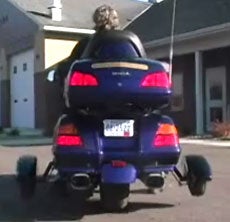 OK, biker dudes, if you want to be called a wuss and get laughed out of the bike rally, install a Retractable Wheel System from Safety Features Incorporated. Flip a switch on the handlebars, and these wheels hydraulically lower to keep that bike upright at low speeds or when it's stopped.
Yeah, we laugh at training wheels for a motorcycle, but this device is great for people with bad knees, senior citizens, and even paraplegics. Just not for biker dudes.
Product Page [Safety Features, Inc.] Thanks, Michael!