The original Motorola Droid was the first Android phone worth getting (sorry G1, we loved you, but it was). A little over two years and three reincarnations later, that familiar—or is it tired?—form-factor is back. Has the Droid 4 evolved enough to keep up with today's superphones?
Why It Matters
Because it's a Droid. Not a Droid Charge or Droid RAZR, but just a straight up Droid. The original Droid basically single-handedly pulled Motorola Mobility out of its tailspin. It was a flagship. Its pullout keyboard was flat and pretty lousy, but the whole thing felt like military hardware. And it was, like, cool. But that was November 2009. 2010 saw the Droid 2, which had a slight bump in specs, but was pretty forgettable. 2011 saw the Droid 3, which was bigger and had a better keyboard, but it failed to inspire people to actually want one. The Droid 4 is Motorola's answer to 2012.
Using It
The Droid 4 is the anti-Galaxy Nexus or Razr—a heavy, thick brick. At 12.7 millimeters thick, it's only slightly thinner than the three-years-ago Droid, and with a 4-inch screen it's longer and wider, too.
G/O Media may get a commission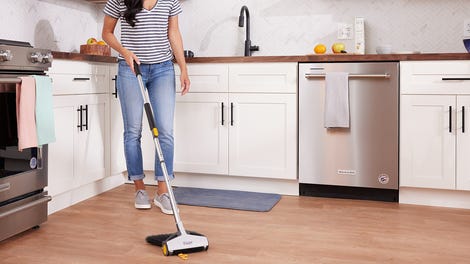 BOGO 50% Off
Flippr - BOGO 50% Off
However, keyboard-lovers will immediately forgive it for being a little big-boned when they slide out the 5-row qwerty keyboard. The keys are off-set, well-defined, and they have just the perfect amount of click. The dedicated number row is really nice, too. The Droid must have gotten sick of all the big chin jokes, because it's been chopped off and the screen is now totally flush with the slide out keyboard. No more Droid Leno jokes.
The D4 is running Android 2.3.6 (Gingerbread), with a promised upgrade to Ice Cream Sandwich. It has Motorola's unnamed custom skin on top, which isn't as bad as other 3rd-party skins, but it isn't pretty and it hinders more than it helps. Moto definitely has business users squarely in its sights, with deep Citrix integration and enhanced security of enterprise users. Oh yeah, and the whole thing is splash resistant, so it'll probably survive if (read: when) you accidentally drop it in the toilet for a sec.
Like
Surprise, the battery on this thing is a champ! I hadn't killed it once through normal usage over the first few days, so one day I set out to abuse the hell out of it. 4G LTE on the whole time, 20 minutes of streamed video from Netflix, 80 minutes of streamed tunes from Google Music, about an hour of intensive gaming, a few phone calls, plus the usual constant pushing and checking of emails, Facebook, Twitter, and Google+. I finally drove it down to 5-percent battery... after 13 friggin' hours. Very impressive. It won't go as long as the Droid RAZR MAXX with it 3300mAh battery, but it definitely comes in second. The camera is pretty good for still pictures, and it has an excellent macro mode, but reds bleed a lot, and it has some trouble with bright colors blending together. (click the photo below for full-res test photos and video)
They keyboard took some adjusting to, because it's just a little bit off center and some of the keys are larger than you'd expect. After a couple days, though, I'll go ahead and call this the best keyboard you can find on any Android device. The keys have a satisfying snap and require just the right amount of pressure. The backlighting is really attractive and it makes everything extremely easy to see. I got consistently excellent reception, in fact, it seemed to lock onto towers and GPS faster than any phone I've used. The 4G LTE speeds were what you'd expect from Verizon, ranging between 12 to 21 Mbps down and 3 to 6 Mbps up. Call quality was excellent, and the phone's earpiece was super loud. The external speaker is one of the loudest/clearest on any device I've used.
No Like
Ugh, the screen. Why, Moto, why!? While it is a slight incremental improvement over the screen on the Droid 3, that really doesn't say much. It just can't come anywhere near the 720p screen on the Galaxy Nexus or any of the other high-end phones this year. Colors are washed out, graphics aren't crisp, and it doesn't produce enough light to be readable in bright daylight. It's simply way behind the curve for 2012.
The phone's 1.2GHz dual-core processor should make the phone fast, but here's the thing, it doesn't feel fast. That's largely due to the "animations" in Moto's 3rd party skin, and it doesn't launch things very quickly either. Installing a 3rd party home replacement like Launcher Pro will go help salve that pain, but you shouldn't have to do that. Hopefully Moto will go much closer to stock Android when it upgrades to Ice Cream Sandwich. Within apps, the phone is plenty fast, and it streamed 1080p video over its mini HDMI-out without a problem.
If you enable a lock screen (which you really should) you have to go through TWO lock-screens to get to the desktop: the one for security you just enabled and the typical swipe to the side to unlock. It's inconvenient and baffling. Also, Motorola isn't really pushing the envelope in camera quality like you see in high-end Samsung, HTC, and Apple devices. Low-light is pretty terrible, and video is just okay. Lastly, there is no NFC chip in this phone, which means you will be left out of the mobile payments revolution, should it actually materialize this year.
Should I Buy It?
If you really want a keyboard, then yes, the keyboard is great. If you really want strong battery life, then yes, this will almost certainly get you through the day. A good, reliable work-horse? Absolutely. If you primarily use your phone for work, then it's maybe hard to do better. However, if you want a device with a beautiful, eye-popping screen that's right at the cutting-edge in terms of performance and features, then no. This is a very good phone, but it feels just a bit behind the curve.
Motorola Droid 4 Specs
OS: Android 2.3.6
Carrier: Verizon
Screen: 4-inch 540 x 960 pixels
Processor and RAM: 1.2 GHz dual-core TI OMAP processor / 1GB RAM
Storage: 16GB internal + up to 32GB microSD
Camera: Back: 8MP/1080p HD, Front: 1.3MP
Weight: 6.3 ounces
Battery: 1785 mAh
Price: $200 w/ contract
Giz Rank: 3.5 Stars