A Dark Song is about a woman who recruits a man to help her complete a very long and complicated ritual of black magic. If done successfully, she'll get to right a terrible wrong from her past. If mistakes are made, the ritual may make her accessible to demons from all eternity. It's quite the gamble.

Written and directed by Liam Gavin (in his feature debut), A Dark Song takes this story deadly seriously. Every little detail seems so important that very quickly the audience is just as invested as the characters are in what they're trying to accomplish. We dive deep into the sacrifices the characters need to make, chants they need to say, movements performed, and so much more. The movie almost feels like a how-to for this procedure, which is pretty unique for what basically should feel like a haunted house movie. Most movies would do the ritual in a montage leading up to the big reveal. In A Dark Song, the montage is the whole movie.
Because the characters, and the audience, are expecting bad things to start to happen, once they do, our reaction is quite unexpected. Their hard work has paid off and we're actually excited. That feeling, however, subverts the expectations of a horror movie in an unsettling way. Watching a movie like this, we expect to be terrified. We expect to see the characters terrified. But A Dark Song has made it so clear what it wants to happen, and done it with such beautiful precision, that it's not that scary. Which at first feels like a problem: it's a horror movie that isn't quite scary. But the more you think about it, the fact it's a horror movie that makes you accept, anticipate and revere these evil entities is almost more impressive than not having a guttural reaction. Once things start to go down, not only are you curious about how right or wrong it can go, you're happy all the hard work paid off.
Catherine Walker and Steve Oram are the man and woman in the film, and each goes to some deep, dark, disturbing places. Walker plays her role with the kind of determination that makes it impossible to take your eyes off her. Oram gives his character an ambiguity that almost makes it feel like he's a scam artist. Like he's just using this woman. And that only adds another layer of complexity to Gavin's already intricate work.
G/O Media may get a commission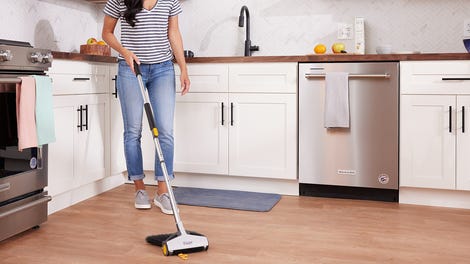 BOGO 50% Off
Flippr - BOGO 50% Off
None of this would work, either, if A Dark Song didn't look or sound a specific way. It has to be believable visually, but creepy musically, just to give us both sides to struggle with. The film is beautifully shot and composed by Cathal Watters and the music in particular, by Ray Harman, really chomps at your guts with bold, off-putting sounds.
There's no doubt the attention to detail and methodical pacing of A Dark Song aren't for everyone. This isn't some kind of haunted house, roller coaster ride. And the fact it's so untraditional in its treatment of the supernatural that it comes as a shock to the senses. We want to be scared, not challenged emotionally. But a film that can take something familiar and do something new and different with it is always welcome. A Dark Song is an incredibly astute and confident debut film from Gavin that's sure to spark conversation.
A Dark Song played Fantastic Fest in Austin, Texas. It does not yet have U.S. distribution.